Already a Member? Click here to access the training.
Not a Member Yet? This course is included in the Premium Membership.  Read on to learn more.
The E-Z Built Hot Dog Cart Video and Plans Package Interactive Online Edition shows you how to Build a Hot Dog Cart or Fix Up a Used One.
You CAN Build Your Own Hot Dog Cart For $797 In Hardware Store Parts. E-Z Videos Show You How. NEW - Build In Wood Or Metal. They're Both E-Z!
If you can butter toast, you can build one of these hot dog carts. No welding, no riveting. No special tools or skills required. Read this whole page to learn how.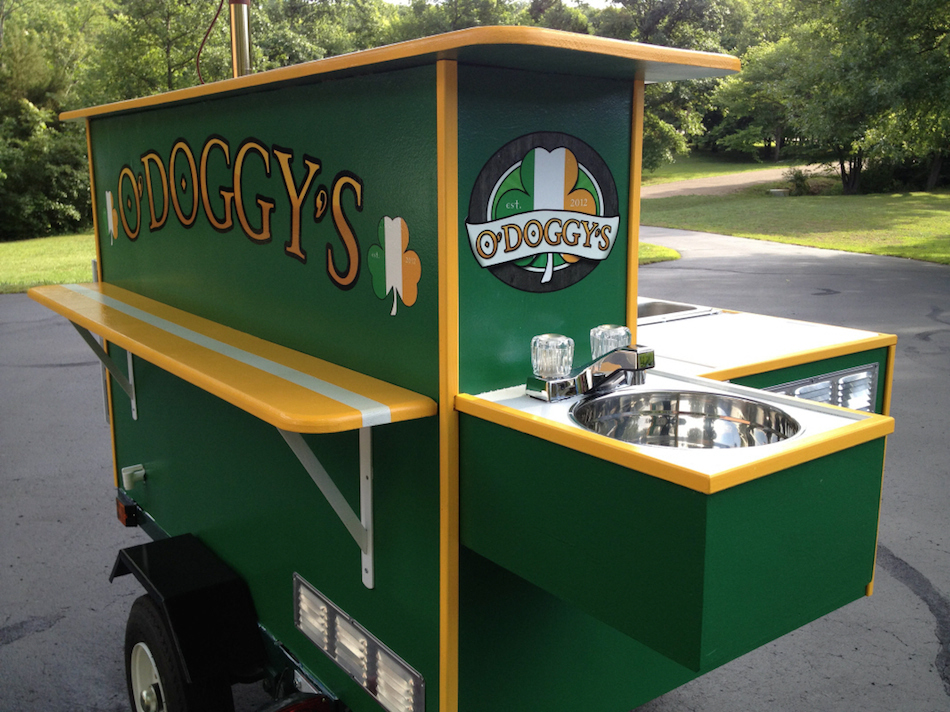 Watch a video from one of our hundreds of satisfied customers. Dale is a full time hot dog vendor running two E-Z Built Hot Dog Carts in Reno Nevada. He built them himself using our video and plans package.
From: Steve Schaible, founder of King Weenie Chicago Style Hot Dogs, Frank and Chips Hot Dogs, and author of the Hot Dog Profits Training System, St. Louis
A five minute conversation made me totally unemployable...
Like you, I had been thinking about starting my own hot dog cart business but hadn't actually gotten going. I had done the research and I knew that a lot of people were making really good money at it.
One day I decided to ask a very successful self-employed friend for advice. And that's when he said the words that made everything click...
"When you work for someone else, you get paid less than you're worth..."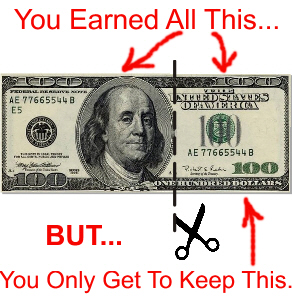 As he explained it, it's just simple math. The work you do produces a certain amount of income for the company. They must pay you less money than you bring in if they want to make a profit.
Then he put it another way, "The only reason I ever hire someone is to make money off them." Those were the words that made it impossible for me to work for someone else ever again.
It was time to start my hot dog vending business.
And that's when I ran into a BIG problem.
I didn't have the money for a new cart or even a decent used one. So I decided to build one myself.
I searched everywhere for a good set of plans. No luck. I settled for a cheap set of plans on eBay. They were worthless. I threw 'em in the garbage.
I was not going to give up - I designed my own cart, built it for less than $500, and started selling hot dogs. My business was so successful that in the space of one year I had five people who wanted to buy it.
I got an offer that was too good to refuse and I sold my hotdog business for $XX,000 (I can't tell you the exact purchase price, but it was well into five figures.)
What a pay day! But...
Part of the deal was a non-compete agreement.
I was prohibited from selling hot dogs for one year. Now what was I going to do? After golf got boring, I got the idea to create a course teaching other folks how to start a hot dog vending business. It's called "Carts of Cash" and it's available in my Hot Dog Biz 101 package.
It was (and still is) a huge seller. Why? Because this business is so inexpensive to start and it succeeds for just about every one who is willing to work at it.
In the city or out in the country - it doesn't matter. I was successful in a rural Missouri town with less than 8000 people.
You can do it full time (4 hours a day) and make a great living, or just work fairs and festivals on weekends to pay off some debt, or to buy those special things that you and your family could never afford...
Like I said, everyone loves my course, but they all ask me...
"How do I build a cart like the one you started with?"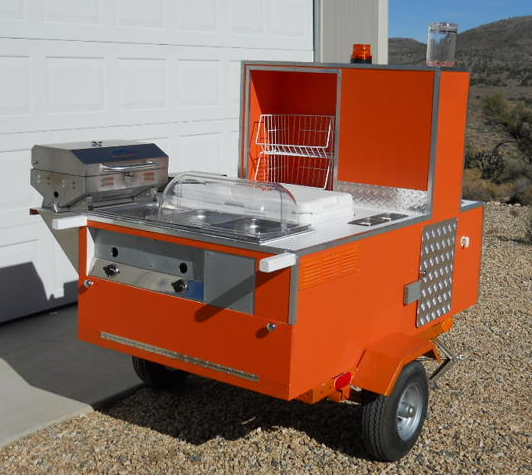 I couldn't give them a good answer. I didn't have any real plans on paper, just some sketches. And besides - unless you're an engineer or draftsman, most people can't build anything from just a set of plans anyway.
In order to really teach people how to do it, I knew I would have to build a brand new and improved cart from scratch and video tape the entire process.
I never release a course unless it gives everyday folks every possible advantage.
So before I agreed to the project I had to tell my students, "I'll build it but I won't release the videos unless the finished cart meets these 10 criteria..."
The E-Z Built Hot Dog cart can be built for less than $500.
Many of the parts used to build this cart can be purchased used at flea markets and garage sales. You may already have some of the more common items at home.
Of course the final cost will depend on two factors: how many used parts you can find, and how you choose to equip it.
The E-Z Built Hot Dog Cart that you'll see in the videos was built to pass very strict codes and includes an electric water pump and propane fired water heater. We pioneered the use of this technology on food carts. These are features that weren't available on any commercial cart until very recently.
In fact, the advanced engineering found on the E-Z Built makes it the most copied cart in the history of our industry. We have a long string of firsts - and we're still the best.
I suggest incorporating the hot water system into your cart for three reasons.
First, the water system performs so much better with a pump and heater. Factory built carts have notoriously bad water systems.
Second, your local codes may not require these features, but if you decide to work a fair or festival in another town the codes may be more strict.
Third, the trend is toward stricter codes so build your cart to pass now and in the future. You're already saving over $3000 - spend an extra $150 for a pump and heater. We show you how to do it in the videos. We even give you sources for all the parts. It's E-Z!
It is certainly possible to build the E-Z Built for under $500 with some used items.
However, we used 100% brand new parts and materials (including the water pump and heater) and our cost was $797 complete.
You'll save $2700 over a similarly equipped manufactured unit from the quality cart builders.

Once you get started, you can hire someone to work the cart and start looking for location number two. In a season or two you could have five carts out there earning money for you.
If you build them yourself you'll save over $13,000.
The E-Z Built passes the health codes.
Every county has it's own equipment requirements for mobile food carts. The main difference from one location to the next is usually the number of sinks that your cart must have.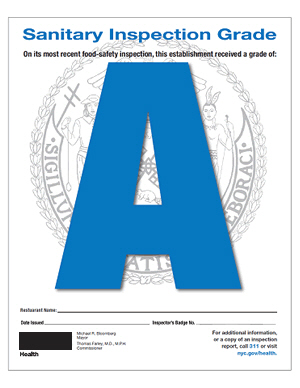 Our plans come with four different sets of schematics so you can equip your cart with up to four sinks. We also tell you how to find out exactly how your cart must be set up so you will be assured of passing before you even start building.
Contrary to what you may have read in some of the forums, manufactured carts don't pass health inspections any easier than a home built model.

Order a cart from a manufacturer and the first thing he will say is, "What equipment do you need? We have to build each cart to the customer's local health code."
The truth is each and every cart must be custom built. That's why you will usually have to wait three weeks or more for a manufactured cart that costs $3200 more than the E-Z Built.
One of the most common questions I get is how does a wooden cart pass the health inspection? One word - paint. Most codes prohibit porous surfaces in a food prep area. Bare wood is a no-no, but if the cart is painted inside and out 99% of the inspectors pass it - no problem.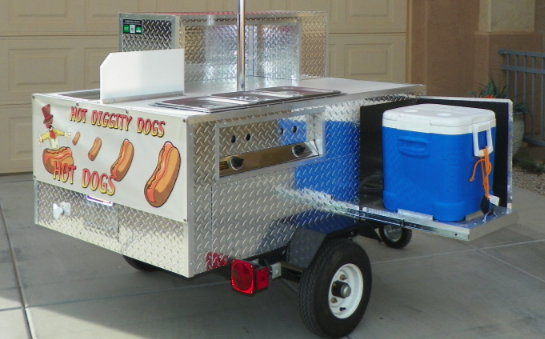 Do you want a metal cart? We've got you covered.
Just watch my "Metal Secrets" video (included) and you'll end up with a bright, shiny metal cart in no time. It's just as simple to put together, and our construction method produces a cart that is free from the rattles and flimsiness of traditionally constructed metal carts.
No welding. No riveting. No fancy tools or skills required. It's truly E-Z!
No special tools or skills required.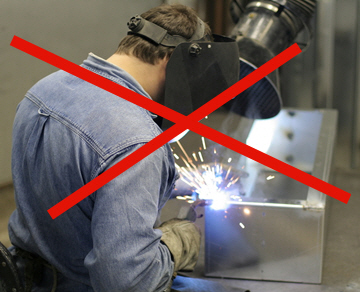 If you can drill a hole, screw a screw, cut with scissors, and saw a piece of wood, you can build your own cart.
We even invented a unique way to make the firebox with no welding, riveting or fancy sheet metal skills of any kind.
The best part is there's no guess work. You'll see exactly how it's done step by step on video. Come on over and join me in my home garage as I build an E-Z Built Hot Dog Cart from start to finish (we'll have a few laughs too). Just follow along and do what I do - you can't make a mistake.
If you can butter toast, you can build this cart.
Uses common, locally available parts and materials.
The basic E-Z Built model is constructed with thin plywood over a simple wooden frame. All exposed wood is then painted to seal the porosity. This satisfies the vast majority of health codes.
You will be able to find everything you need at places like Home Depot, WalMart, RV centers, and the local hardware store. The only thing you may not be able to find locally is the water heater, but we'll tell you the best place to order it from.
The plans come with a detailed Bill of Materials that lists every single thing you will need, all the way down to the number and type of screws.
We also give you sources where to find everything.
Optional Metal Construction.
If you like the looks of a metal cart, or if your inspector requires metal construction, we've got you covered. The E-Z Built Video and Plans Package now comes with a fifth DVD just for you metal lovers.
The new "E-Z Built Metal Secrets" DVD will show you everything you need to know so you can hit the streets with a shiny metal food cart, indistinguishable from manufactured units costing $6000 and more.
And in the spirit of keeping it E-Z, there is still no welding, riveting, or sheet metal skills required. In fact, it's just as easy to put together as our base model cart.
Easily customized.

Let's face it. No two food vendors serve the exact same foods or use the exact same equipment. You want your cart to be able to do exactly what you want it to do. That is why the E-Z Built Hot Dog Cart was designed from the beginning to be easily customized. You can make it as big as you want, mount any equipment you want, and configure it any way you want. After you watch the step by step videos you will know how to build your dream cart - the one that until know has been out of reach.
That is exactly what Jack did. Here is what happens when you combine the E-Z Built Video and Plans package with a burning desire to have the cart of your dreams...
Lee built his E-Z Built as a stand-in model. He used a larger trailer frame and torsion axles so he could stand in the middle of the action!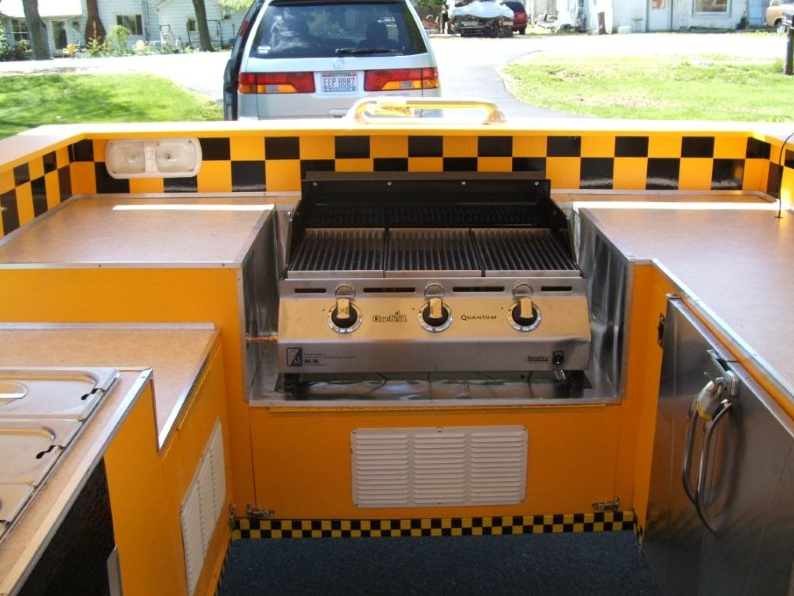 Mark Hentrich operates "Good Doggy Hot Dogs" in Michigan. He built his E-Z Built as an enclosed model for under $1000. He used hollow core doors (genius!) to create the "house" and then outfitted the interior with steamers, sinks, water heater, etc exactly as shown in our video and plans package. Mark sent us a video of his enclosed E-Z Built Hot Dog Cart. Click on it to watch it below.

Click to play video above.
Grow your business easily.
Dale is absolutely killing it in Reno and he is about to build a third E-Z Built to add to his fleet. A huge benefit of building your own hot dog cart with the E-Z Built Video and Plans Package is that you can grow your business incredibly cheaply and quickly whenever a new location presents itself.
Rick purchased the E-Z Built Video and Plans Package... And built a shaved ice cart. Nice! As you can see, the plans and videos are a great jumping off point to build a food cart. Any food cart. You can follow the videos to a "T" and build the yellow hot dog cart that you see at the top of this page, or let your mind take flight and customize your cart to serve all sorts of gourmet street foods.
If you can dream it, you can build it. The only limit is your imagination.
Check out these photos sent in by E-Z Built customers from around the world.
One thing you will notice is how easily the basic plans can be modified to give you the EXACT cart that you've always wanted. Browse through the pictures to get some great ideas for your own E-Z Built hot dog cart. If you can dream it, you can build it - it's E-Z!
When you finish your E-Z Built Hot Dog Cart please send me some pictures of it so I can post them here.
Click the pictures below for a larger version. Then click on the right side of the enlarged photo to see the next picture, click the left side to go back.
Builds lightning fast so you can start making money now.
The average person should be able to put this cart together in a few days. If you can only work on it evenings and weekends, you should finish it in less than two weeks.
The longest part is waiting for the paint to dry...
Capacity to work the biggest events with ease.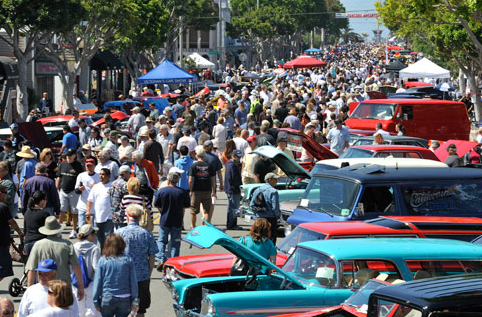 Want to work the big fairs, festivals and car shows? No problemo. The E-Z Built was designed to be all the cart you'll ever need. Here's why...
Most manufactured carts only have three 1/3 size pans.
The standard E-Z Built has a full size steam table that holds three 1/3 size pans, PLUS a half size pan over direct heat for fast cooking.That's 150% more cooking capacity which means you can be 150% more profitable.
But that's just the stock version. You can easily stretch the cart body to give you room for a SECOND cooking station PLUS a grill, PLUS a flat top griddle, PLUS a... well you get the idea.
Why pay thousands more for much, much less?
Towable behind the smallest of vehicles.
Our construction technique produces a cart so light that it can be pulled by a bicycle, but I personally wouldn't try it. It sounds too much like excercise...
Seriously, you'll never even know it's behind you.
Pushable by the smallest of people.
Tow it close to your location, un-hitch it, then use the built in handles to push it down the sidewalk or through the park.
It's easy to sell your hot dogs in these profitable places where vehicles are prohibited.
Easily titled.
The E-Z Built is constructed on a standard, DOT approved utility trailer frame.
The cart body is bolted to the frame, not welded. Since the body is removable and the trailer frame is unaltered, you simply title it as a utility trailer, not as a food cart.
As you can see - it surpassed all of my expectations...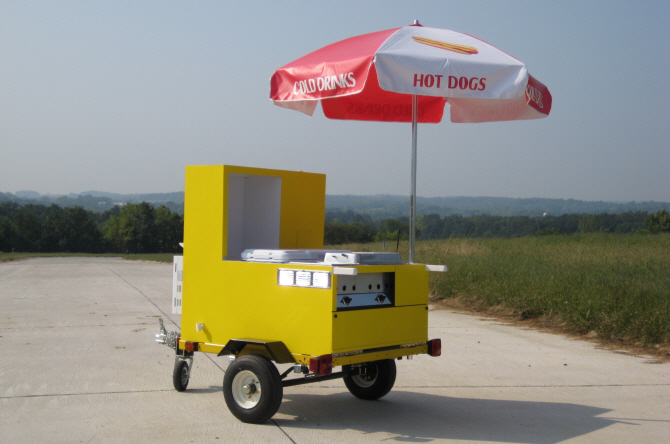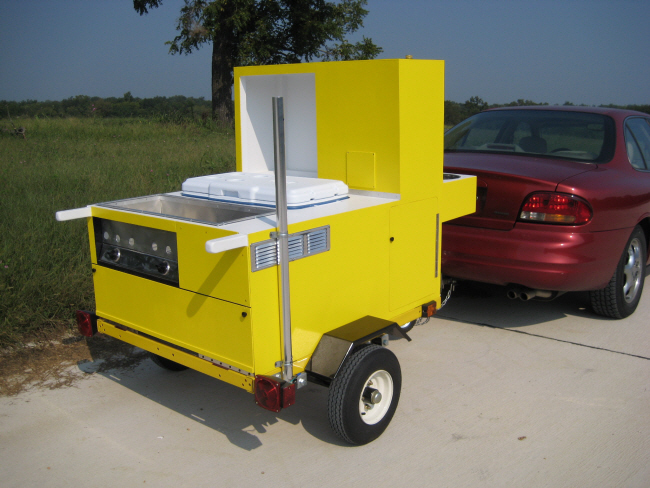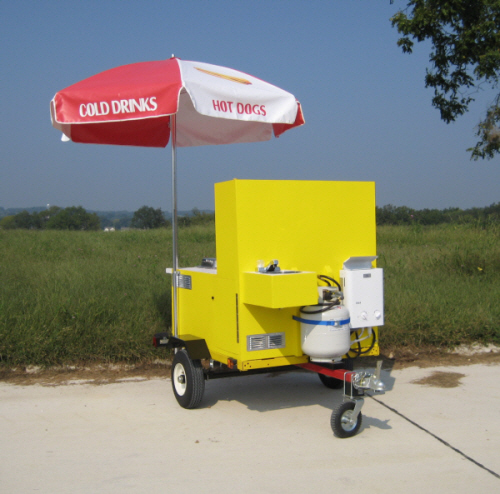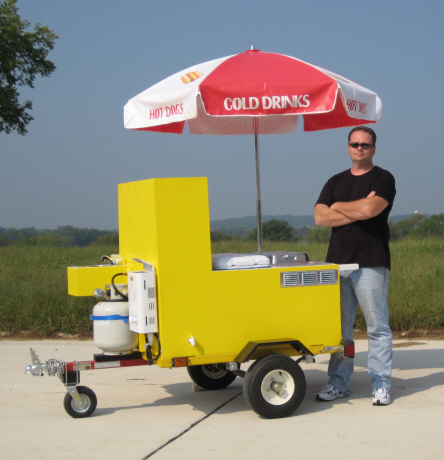 Want a sneak peek? Take a look...
Introducing...
The NEW E-Z Built Hot Dog Cart Video and Plans Package Interactive Edition - Instant Access From Your Computer, iPhone, or iPad - Start Building Your Cart RIGHT NOW!
Here's What You Get...

60 Step by Step Interactive Construction Videos
Watch me build an entire cart from start to finish. My crew videotaped the entire construction process step by step. Just follow me and do what I do in each video. You can't make a mistake.If you have a question just ask it in the form provided below each video and we'll answer it for you. Have a suggestion, idea, modification, or improvement? You can use the form to share it with your fellow HDP Premium Members.You are never alone. We'll build it together!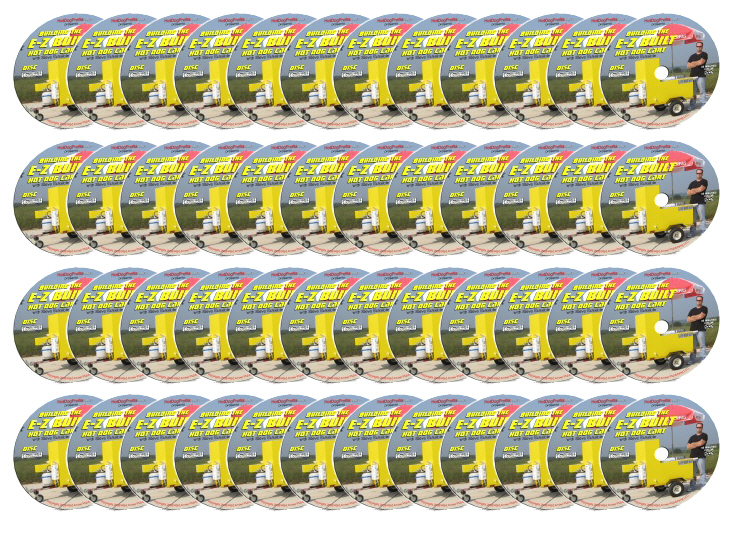 Like everything else in this course, the construction videos are mobile compatible. Watch them on any device, anywhere you have an internet connection.
You also get...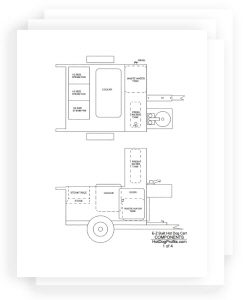 Detailed Plans Set
CAD drawings with front, back, top, and side views with critical dimensions, and construction details. During the design process we solicited input from our Carts of Cash Hot Dog Cart Course students. Many said that they already owned a utility trailer, so these plans are designed to be adapted to a wide variety of trailer sizes. The E-Z Built Cart can be built in many different configurations with a wide variety of equipment.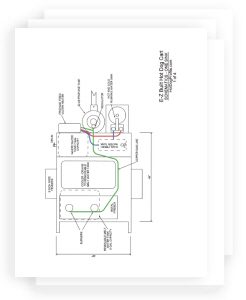 Full Color Health Department Schematic Drawings
"Schematics" are simply drawings which show the different systems on your hot dog cart. They are color coded to show the gas, hot water, and cold water lines. Many health departments require you to submit schematics during the inspection process. Our package includes four different schematics. Use the one which matches the number of sinks you will be installing. These high quality drawings will definitely "grease the wheels" during the permitting process.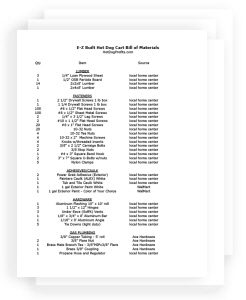 Bill Of Materials With Parts Sources
Each and every part is listed along with sizes and
quantities. Also included is a sourcing guide that tells you
exactly where to find everything you need. The E-Z Built Hot Dog cart is designed to be built using locally available parts and materials. However, we also include internet sources for some parts, in case you can't find them near you.
The E-Z Built package includes everything you need.
Hot Dog Profits Premium Members Get Instant Online Access to the E-Z Built Hot Dog Cart Video and Plans Package and Personal Help Whenever They Need It...
PLUS - You Also Get "A Day at the Hot Dog Cart" Video Training and All The Other Mobile Food Business Courses We Have Ever Produced!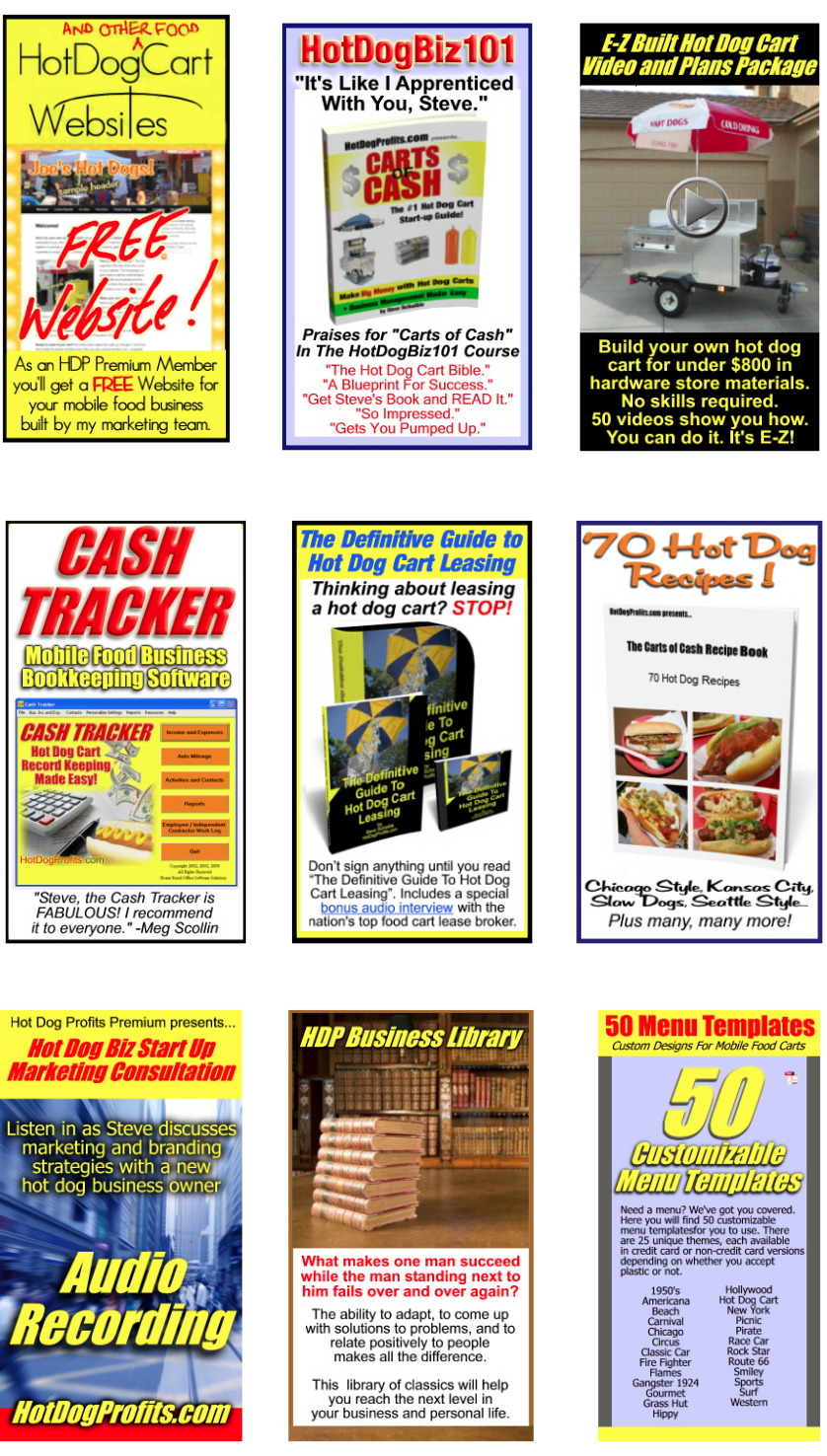 Click Here to become a Premium Member.
What are our customers saying about their Hot Dog Profits Premium Membership?
"I've been reading all of the material I received with my membership and it's invaluable, thank you, it's the best money I've ever spent."
-Mary Jones, Hot Dog Profits Premium Member
"Really, you give way more than the money's worth to your Premium Members. Thanks for that."
-Richard Strawder, Hot Dog Profits Premium Member
"People if you are running a cart and don't jump on this you're crazy. If you are new to to the biz THESE ARE the main tools. Even if your an old timer there is plenty of info don't wait. I will make sure everyone knows about this, really they need this."
-Peter Schumate, Hot Dog Profits Premium Member
"I have to say, I am just astounded at the amount of information. If you are even slightly considering getting into this business, this is a must. You really don't know how good this is until you buy it."
-Aaron Siegel, Hot Dog Profits Premium Member
"Thanks for this incredible offer. My son is also looking into slingin dogzz with me so that's part of the reason I purchased this package. He is going to help me on Friday with my first event."
-Jeff Duncan, SGTDzz Hot Dogzz, Hot Dog Profits Premium Member
More customer comments about the E-Z Built Hot Dog Cart Package...
"Took my E-Z Built Hot Dog Cart to the Farmers Market on the Town Square, made $225 per hour for 4 straight hours. It's GREAT! Thanks Steve!"-Lee Vestal
"Love the DVD's! You make it so easy to understand...AND, you're very entertaining as well!! I would (and WILL) absolutely recommend you and the DVD set to anyone thinking of getting into the business."
-Janine R Pestel, Dragon Dog Hot Dogs
"Building Steve's E-Z built Hot Dog cart saved me thousands of dollars. It was so much fun and cost efficient. I'm building a second one and still saving a thousand dollars more than if I would of bought just one single cart new. This is the only way to go if you plan on starting a hot dog business, with hardly any start up cost. Thanks again Steve!"
- Jim Steffen
"Its all your fault, Steve! If not for the EZ Built, I would have never had the heart to bid on the contract to do the concessions at our local park. I will be selling hotdogs and other goodies to the masses as they watch softball games! Thanks Steve for what you do. You changed my life.
-Wanda Swan, Dixie Kitchen!
"I ordered your DVDs on the cart build - we modified it to fit our needs but it is, of course, bright canary yellow. You would not believe the comments I get EVERY DAY about how wonderful my E-Z Built cart looks. My customers are so very impressed with the sinks. Even people with master's degrees in public health were impressed, as well as the state health department. Thanks!"
-Michelle Lingus
"Steve, excellent video. Genius is in simplification, according to Albert Einstein anyway. Seeing the way the metal skins are done and hearing your explanations and tips on the subject make the information very usable. I have really been debating on whether to build a wooden cart or buy a metal cart; now the decision is easy, I'll build a metal E-Z Built Cart! Thanks much."
-Steve Shaffar
"The firebox is nothing short of ingenious. Thanks for putting this together Steve, I sure appreciate the hard work that went into a production such as this. It does cover everything that you need to know in order to put one of these carts together."
- John Kennedy
"Just thought I'd let you know that I had my EZ Built inspected by the health department today. The inspector loved my cart. He was really impressed! I scored a 99 and only because I didn't have a logo on it yet. I could have never done it without the plans. I'll send pics after a few finishing touches. Thanks again!"
- Chris Jenkens
"I was excited when I got the E-Z Built Metal Secrets. What a great video Steve. One problem though. Now I don't know if I want to do this for cart #1 or #2! One thing's for sure is that it's a good problem to have. Once again, thanks for all that you do for your piece of the hot dog world. We all appreciate you!"
-David Hopper
"I purchased your how to build a hot dog cart video and I love it. I am almost finished with my cart. It looks great! I have added a flat grill and a little extra cold storage. The techniques learned from you have saved me thousands. When I look at my cart I say to myself, yea, I built that! I could not have done this without you. Thank you! Thank you!"
-Jason Thurston
"Your customer service is beyond words. I called ya a couple of times even on a Saturday and you were right there to answer my questions. Thats is definitely standing by your product, and man do you deliver. I built the cart as specified but then added a grill. I am enclosing a couple pics from the music festival I did on Memorial Day and I will send some new pics soon. So in closing I just want to personally thank you and to say to anyone that...if you build it - they will come. Thanks so much for all the great info and help."
-Rodney Cooper and Brigit Burt, Grateful Dawgz
"We are so happy with how our hot dog business is taking off. People love to look at the carts and are impressed that Jim made them in the garage. We just wanted to let you know how great everything is going - we feel like we know you after reading your stuff and seeing the DVDS. Thanks for the help in getting started!"
-Dyan Steffen
"Just received my copy of the videos. Fantastic! I have only had time to watch the first one. Very impressed! You have succeeded in making something that could be very intimidating seem like a simple chore. I can't wait to watch the rest of the videos and get started. Thanks again!"
-Steve Simpson
"Hi Steve, I just watched the Metal Secrets video. This video is right on par with your other EZ Built videos - fun to watch, easy to understand and very informative. I really want to have a metal cart, but can't afford to buy one, so now I can have the best of both worlds. I get to build a cart that I can afford using your EZ Built instructions, and now I can have it in metal to boot! Thank you Steve for putting together this new video of Metal Secrets.
-Josie Gilmore
"Hi Steve, I got your dvd's and have looked at them and started to buy all of things on your lists. I just wanted to tell you that I have looked all over the net and your info is the best of all of them. I'll soon be out there on the weekends and its all thanks to you!
-Don
"Steve, Thanks for your DVD's and help, best thing I've ever done! Yankee Dog's Will be open through the winter weather permitting."
-Sam Penwright
"The instructional DVD's are terrific! Your simple, step by step explanation of things is so clear and thorough. You were absolutely honest and correct when you stated that "if you can drill a hole, screw a screw, and saw a piece of wood, you can do it!" No special skills are necessary. I also got a kick out of your dry wit and humor. I found myself laughing, "shootin' the breeze," and having fun as I watched the videos--as if I was in the same room working along side!"
-Rico Burdick
"Steve, just finished watching your videos and reading your book. THANK-YOU!!! My fiance and I are so excited to get our hot dog cart business going. Your tutorial videos were great. We spent Saturday night watching your videos and brainstorming our plan of attack. We can't thank you enough!"
-Joel Mellinger
"Hi Steve, I received your package today and I am quite impressed with the videos. I believe this is a project I will be able to build without much trouble. Thank you for your help!"
-Bob Porter
"Enclosed find a few pictures of my beautiful and much loved EZ-Built cart just a few minutes after absolutely SAILING through my Health Inspection this morning. The Health Officer was so enthralled by the fact I had built my own cart. I received a special citation commenting on how well thought out, organized, and constructed the cart was. Prior to ordering your video my sum total building experience consisted of bolting together IKEA furniture. Believe me when I tell you that if I can do this, ANYONE can do this. Steve, I don't know how to thank you for publishing both Carts of Cash and the EZ-Built video."
-Darren Clark
"Steve, after watching all the videos twice, you are a GENIUS! Some of the ideas that you came up with are truly impressive."
-Ken Versluis
"Steve, I really and truly thank you from the bottom of my heart for the material you have put together. Buddy, your stuff is excellent and worth every penny! Thanks again Steve"
-Rick Janecka
"Cant wait to get this thing done. I have all the frame work complete and am building sinks now. Great plans! Thank you."
-Richard Hutsell (Mad Dogs)
"We currently sell dogs in our concession stand but not from a cart... We want a cart! Thanks for the DVDs they were fantastic. Thank You."
-Vern Wallace
"Update: Oh Man! I love it! It works so well!! The pressurized water system, tank less water heater, the fire box is so great! I have a lot of food experience and your plans are fantastic! I added the flat grill so I can do breakfast, burritos, tacos, sausage and peppers etc. The list goes on. All I can say is thank you so much. I am proud to be apart of your community, a fellow dogger from the EZ Built team. I know it sounds corny, but what the hell. Somehow, I'll find a way of sending some pictures. Unfortunately, when its busy I'm selling dogs, and can't take pictures! I'll have to get a customer to take some pictures as I prepare the delicacies. Thanks!"
-Jason Thurston"Steve, thank you for the Metal Secrets hot dog cart tutorial. As in your traditional style, the video is very informative and easy to understand. I highly recommend this video for a very professional cart on a more economical level."
-Cindy Buttles
"Hey Steve, I've finally finished building my cart and am up and running! I landed a highly visible location on a main street through town, and there's plenty of room for parking. People can even drive up and order without getting out of their car! The cart is working perfectly, and everyone compliments me on it. Thanks for all of your help. I could have never done this without the help of the EZ Built videos and the Hot Dog Biz 101 book!"
-Chris Jenkins
"Good morning Steve, I've never taken the time to thank you for the E-Z Built cart plans. I started last season mainly doing the bar scene on Friday and Saturday nite and a few special events in my community. I am in the process of adding a small bain marie to the cart in place of the cooler. This will allow me to offer about 25 named hotdogs for the beginning of our opening season which is March 12, 2011 for Saint Patricks Day. Bottom line Steve, my family and I thank you for helping to change my life."
-Jeffrey Banks
"Steve I hope I didn't send you too many photos, but I'm very excited thanks to you. Check it out and let me know what you think. Everything works great. The hot water works perfect, the burners work great. Thanks again. You made it happen."
-Pat Riccitelli
"P.S. I owe you big time!"
"Steve - What great videos and what an easy build! Thanks so much for all of your valuable information. I'll send photos of the finished product. Thanks Again!"
- Ron Walker, aka DogZilla
"King of all Dogs"
"Steve, I am finally ready to make some money! Attached you will see the pics of my EZ built cart. I made a few modifications to it but overall it is pretty standard. My health dept. requires 4 sinks so obviously they are there. I still have plans to install glass tile on the top and add a small grill next to the dish wash sinks but that will probably come this winter. I am ready to start slinging! Thanks for the great plans and I will keep you posted as business progresses."
-Richard Hutsell
"Mad Dogs Hot Dogs"
"Hi Steve, I bought your E-Z Built DVD's a couple of years ago. Life has been a little wild and I am just now getting around to building the cart. I was impressed with the simplicity of how to build this cart. You did a great job of making the process clear and understandable even for a novice handyman. Thanks!"
-Travis Cohea
"P.S. Love your newsletter…
Keep them coming!"
"Steve, Thank you for producing your awesome DVD videos. The boys (Wade 18, Kalib 16) were excited and ready to start building as soon as they came in the mail. The boys set up an appointment to meet with the local AAFEES Manager (on Base Military Shopping Center) here at the base and he loved the idea and cart and asked the kids when could they start. The boys added a small PA system so they can plug in their Ipod (They have to play the music that I will allow) and bark in the customers, also added a Oogah horn for the small kids and their parents to honk when they buy something, LOL it draws more attention to them and they are the talk of the base. Cheers!"
-John, Heidi, Wade, and Kalib
"V's Hot Dogs"
"Steve, I bought the "E-Z Built Hot Dog Cart" package and the videos and plans were easy to follow. I have an agreement with the school district in my city to provide concessions for the little league. I have been unemployed since December and I made my first "Hot Dog" dollar last night. Self employment is the greatest gift I could have given to myself."
-Angie Evers
Oregon
"Well, Good morning, Steve! The more I watch the construction videos and listen to the audio books, the more I am convinced that you are brilliant. The techniques that you are using are fantastic!"
-Devin Chapman
"Hi Steve, I read the Carts of Cash book and watched the DVD's this weekend. FANTASTIC! I'm going to modify your plans and make my cart a bit bigger to accommodate the addition of a propane griddle. Thanks!"
-Marc Pisa"Steve, The cart turned out great thanks to your great plans and instructions. Here's the pics. Passed the health dept. inspection got my license. The inspector asked were I purchased it. She was surprised when I told her I built it! Thanks!"
-Mark Schueszler, Ohio
"Hey Steve! Just had the health inspector look over my cart and she LOVED it! I quote: "Wow! What a nice looking cart!" Thanks to your E-Z Built Hot Dog Cart plans! My neighbor who has been watching me build it, was also impressed *grin*"
-Julia
"Thank you for all the help you gave me on building the cart, not only does it look great, but the health inspector said it was one of the fastest inspections he had ever done. He was very impressed, and thats not very easy in SC. I opened the cart 12/2/11 with 2 employees that run the cart 6 days a week and have done very well so far. After being open only 30 days, after all expenses, we still made great profit."
-Kenny Grant, South Carolina"I am pleased to announce that my EZ built passed it's initial Metro Nashville health inspection this morning with a score of 99%... Because, as the inspector says "Nobody gets a 100%" LOL.
I am ready to sling dogs.
THANKS again man!"
-Richard Smith, Jr
Roadie Dawgz, Nashville TN
"Hi Steve, Thanks for the instructions on building the cart, I couldn't have done it without your DVDs and blueprint. Well worth it. I will be setting up by the court house in Reno, NV. Come see me if you make it to Reno! Happy Hotdogin!"
- Lucky Dawg
"Hi Steve, Here are some pics of my new EZ built cart. Your videos and instructions were great. I built it in a shed that was 8x10 during the winter in the Chicago area! I'm very proud of the finished product. Also since I built it, I would be able to change or repair just about anything on the cart. Thanks again,"
-Bruce Zich
Bruce's Hot Dog Cartel
"I have to thank you for the great DVD's (EZ Built Hot Dog Cart discs) and Carts of Cash book! Without your information, I could have never done this! Thanks for all that you do!"
-Julia Turgeon
Granite State Hot Doggers
"I built an E-Z Built a couple of years ago for my son. He used it nonstop through college and recently gave it back to me. I really can't thank you enough for all the fun building that cart brought me, and saving me tons of cash that would have gone to my son had he not been such an entrepreneur! So much fun and so rewarding too. Thanks to you Steve!"
-Leldon R.
Amarillo, TX