Get instant online access (right now - even if it's two in the morning) to all the Hot Dog Profits books, start up guides, cart building plans and videos, forms and contracts, on the job video trainings, products, courses, and members only perks.
Your Hot Dog Profits Premium Membership gives you everything you need, all in one place, with personal help whenever you need it.
"I've been reading all of the material I received with my membership and it's invaluable, thank you, it's the best money I've ever spent."
-Mary Jones, Hot Dog Profits Premium Member

"Really, you give way more than the money's worth to your Premium Members. Thanks for that."
-Richard Strawder, Hot Dog Profits Premium Member

"Steve, the videos are great. I can't wait to get building. Thanks!"
- Mike Teague, Hot Dog Profits Premium Member

"People if you are running a cart and don't jump on this you're crazy. If you are new to to the biz THESE ARE the main tools. Even if your an old timer there is plenty of info don't wait. I will make sure everyone knows about this, really they need this. The software and the 101 tax tips alone are worth the price."
-Peter Schumate, Hot Dog Profits Premium Member

"I have to say, I am just astounded at the amount of information. If you are even slightly considering getting into this business, this is a must. You really don't know how good this is until you buy it."
-Aaron Siegel, Hot Dog Profits Premium Member

"Thanks for this incredible offer. My son is also looking into slingin dogzz with me so that's part of the reason I purchased this package. He is going to help me on Friday with my first event - 400 dogzz!"
-Jeff Duncan, SGTDzz Hot Dogzz, Hot Dog Profits Premium Member
Your Hot Dog Profits Premium Online Membership Includes...

250 page "Carts of Cash" book - How to start, run, and grow your business the right way. Online version.

E-Z Built Hot Dog Cart Videos and Plans - Step by step online videos and plans to build your own hot dog cart.

Cash Tracker 5 Day Trial - Mobile food business bookkeeping software. Keeps your books with the click of a button.

Free Custom Website For Your Business - Our marketing team builds and installs it for you.

Definitive Guide to Hot Dog Cart Leasing - Should you lease or buy? This course gives you the answer.

70 Hot Dog Recipes - Never run out of ideas for tasty creations.

Marketing Consultation Audio Recording - Listen in on a live marketing consultation.

50 Menu Templates - Customizable menus for you to use.

Hot Dog Cart Junior - Make this kid size hot dog cart for fun or profit.

Hard Copy Discounts - Want a professionally printed hard copy book, or DVDs and paper plans shipped to your door? Members can get the 250 page Carts of Cash book, the 4 CD Carts of Cash Audio Training, or the 5 DVD set of E-Z Built Hot Dog Cart Videos at our cost. Most of our members find that they don't need these, but if you want them you can get them cheap.
There are more than a thousand Hot Dog Profits Premium Members already inside. We can't wait to meet you!
A single payment of $69 gets you lifetime access. This is NOT a monthly subscription. You pay one time and you're a member forever with access to personal help whenever you need it!

Click the add to cart button below. I can't wait to see you inside!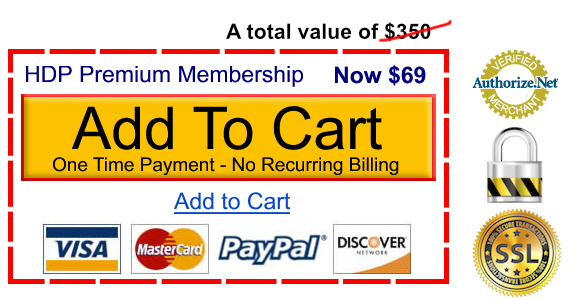 Questions? If you have any questions regarding the Hot Dog Profits Premium Membership please call me at 636-399-2460. Yes, I answer my own phone.
I look forward to helping you achieve your dream of running your own fun and profitable hot dog cart or other mobile food vending business. I and the other HDP Premium Members can't wait to meet you!
-Steve
"Hello to All……especially those thinking about joining the HDP Premium ranks.

This is a business that is almost fail proof. If you're willing to work at it, never give up, be flexible, be nice, be clean, wear uniforms, keep your menu simple, sell well prepared food in an appealing way, keep your books up to date, keep your profit margins in line and ask yourself this every day after you set up, "Would I stop and eat here?"  You're on your way to making to making a decent living.

We started with a cart in a local park, now we serve 3 contracted locations and just picked up the contracts for managing another 3 City owned Concession Stands within an Aquatic Park , a Youth Football/Soccer Park and a Adult Softball Park.

It can be done, we are living it. Everyone loves a great Hot Dog!"

Tim and Deb - Hot Dog Profits Premium Members