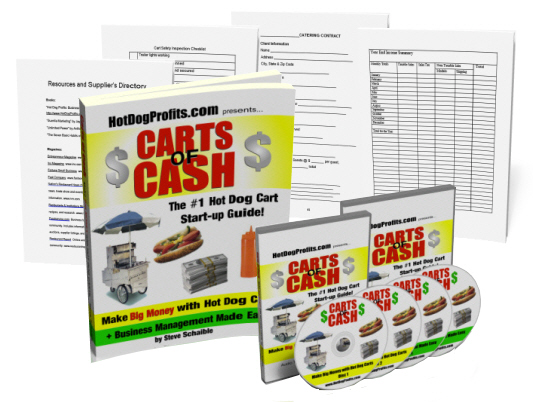 Carts of Cash - The #1 Hot Dog Cart Business Start Up Guide. Interactive Online Edition Includes One on One Help!
Already a Member? Click here to access this training.
Not a Member Yet?  This course is included in the Premium Training.  Read on to learn more.
Hot Dog Biz 101 includes not one, but TWO great interactive online books, THREE hours of quality audio instruction, and all the forms and contracts you need to run your hot dog biz.
And now you can ask me questions inside the course!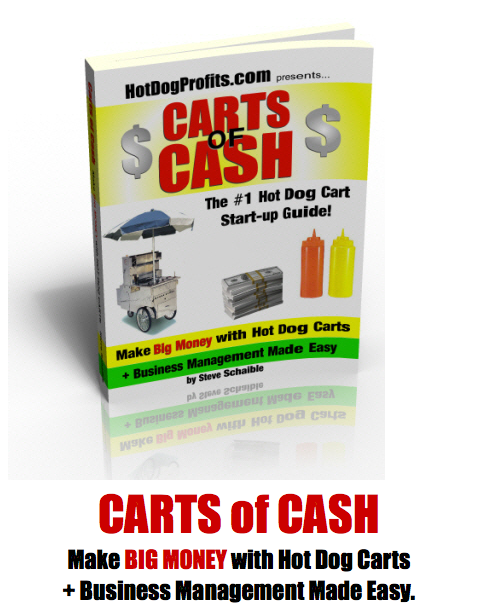 Book 1: "Carts of Cash - Make BIG MONEY with Hot Dog Carts"
This is the book about the day to day operating procedures, the nuts and bolts, the how-to's. In it you'll learn all the well kept success secrets that the other guys don't want you to know.
I've made it "paint by numbers" simple.
You'll get a step-by-step Action Plan which walks you through each and every task necessary to get you up and running. This 27 point action plan breaks down the entire start up process into easy to accomplish mini-tasks.
From start to finish, you're sure to be on track as you accomplish each task in the correct order. Follow the action plan and you'll have all the bases covered.
You get all the checklists and paperwork you need to make things run smooth.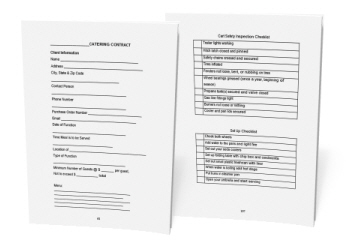 I'm giving you all of my personal checklists that I use in my business including:
Sample Catering Contract
Daily Cart Inventory
Cart Safety Inspection Checklist
Set Up Checklist
Tear Down Checklist
You will find all of these forms throughout the Carts of Cash manual. You have my permission to copy them and use them in your own hot dog cart business. These checklists and contracts will streamline your daily operations and help you win those lucrative catering gigs.
Here are all my sources for the products and services you'll need.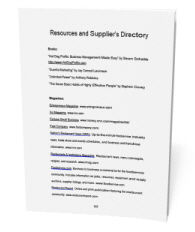 Where's the best place to buy buns? The answer will surprise you. How about soda? Probably not where you're thinking (definitely not Sam's Club). You'll find the answers to these questions throughout the manual, but I decided to go one step further and give you my resources and suppliers directory.
In it you'll find links to trade shows, industry groups, financing sources, books, magazines, and just about anything that pertains to optimizing your hot dog cart business.
Check out the Table of Contents:
Part One - Introduction
CH 1 Overview
CH 2 Self Employment
CH 3 Start-up Considerations
Part Two - The Ingredients of Success
CH 4 Location, Location, Location...or Not!
CH 5 Special Events
CH 6 Catering
CH 7 Marketing, Advertising, and PR
CH 8 Building your Brand
Part Three - Equipment
CH 9 Hot Dog Carts
CH 10 Other Equipment and Supplies
CH 11 Turn your Cart into a Restaurant and Double your Sales
CH 12 Daily Operations
Part Four - The Food
CH 13 Food Safety
CH 14 Dogs, Chips, and Soda - The "Perfect Meal"
CH 15 Food Prep, Cooking, and Condiments
CH 16 Purchasing your Inventory
CH 17 You Must have a Commissary...or Maybe Not!
CH 18 How to Make the Health Inspector Fall in Love with You
CH 19 $THE BIG SECRET$
Part Five - The Paperwork
CH 20 Licenses, Permits, and Sales Tax
CH 21 Insurance
Part Six - Expanding your Empire
CH 22 Multiple Cart Management
Part Seven - Resources
Action Plan
Resources and Supplier's Directory
Is that everything? Not by a long shot.
After I finished writing the first 170 pages, I sat back and said to my self, "Self, if you were starting out today with no previous
experience, would this book answer all your questions?"
I thought long and hard. After all, I had just spent months writing 170 pages of the best hotdog cart information available anywhere! I wanted to say "YES!" I wanted to be done writing. But I had to be honest...
What about the business end of the business? As tired as I was, I had to write another book for you! This one would cover everything that a newbie would need to know about handling all of the cash that comes in every day.
Book 2: "Carts of Cash - Business Management Made Easy"
The second book in the Carts of Cash series is the result of my own experience plus hours and hours of interviews with bookeepers, accountants and a MBAs.
I know for a fact that you won't find this information anywhere else, especially as it pertains to the hot dog cart business.
Don't confuse this with the $14 ebook "Business Plans" that are out there. Those are just 9 or 10 page, generic documents with the words "hot dog cart" or "day care center" inserted in the blanks. Totally worthless.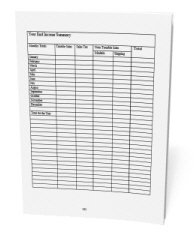 I'm also giving you all of my hot dog cart business bookkeeping forms which include:
Income Ledger
Year End Income Summary
Expenditure Ledger
Year End Expenditure Summary
Sample Profit and Loss Projection
Sample Cash Flow Projection
And I explain exactly how to use them in easy, non technical language. If you want to use a computer to keep your books that's great, but knowing the basics of bookkeeping will make it all the easier.
In my 80 page business management book you will learn:
How to set up your business
Find financing and leasing sources
Keep your books
Manage your cash flow
Hire employees
Pay your taxes.
I've even included a BONUS section on motivation as it applies to the
growth and success of your hot dog cart business.
At 80 pages long, the business book alone is bigger than all of my competitor's entire books!
Table of Contents:
CH 1 Business Legal Structures
CH 2 Business Start-Up Requirements
CH 3 Bookeeping and Accounting
CH 4 Understanding Financial Statements
CH 5 Taxes, Employees, and Professional Services
CH 6 Motivation, Inspiration, and Self-Improvement
With the addition of "Carts of Cash - Business Management Made Easy", I am offering a truly complete base of knowledge for anyone who wants to start and successfully operate their own hot dog cart business.
Just Released - Carts of Cash Audio Recordings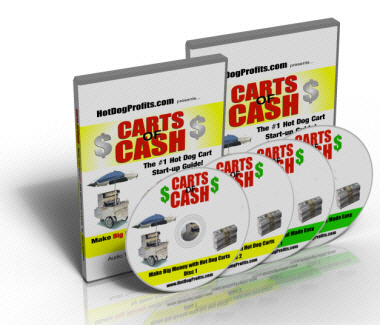 Now you have a convenient way to study while driving to work, taking a walk, or exercising at the gym. Three hours of content! The entire course has been recorded in high quality digital audio. Very popular with our customers who spend a lot of time behind the wheel!
These audio MP3s were not originally part of the Carts of Cash course, but I had so many requests that I decided to include them. As a matter of fact I did a little research and found out that audio learning enhances comprehension significantly. Listen to the recordings several times and you'll be surprised at how much you retain.
I am very proud of these books and audio recordings and I know you will be proud to own them, use them, and start making BIG MONEY with hot dog carts.
This course can change your life. Let's think about the possibilities.
You could...
Sell hot dogs part time for that much needed extra cash...
Work fairs and festivals on weekends and make thousands...
Transition into a full time business when the time is right...
Make $100,000 a year or more...
Get your kids out of daycare...
Fire your boss...
Work less hours...
Eliminate your stress...
Take more vacations...
Spend more time with loved ones...
Travel...
Meet new exciting people...
My Favorite Success Story . . .
John A. used the Hot Dog Biz 101 materials to start his own hot dog cart in Iowa. He made $90,000 in his first year and is looking to easily break the $100,000 mark in the coming year.
John owned a chain of car washes and he told me yesterday that one hot dog cart out-earns a car wash, even though the start up cost of a cart is 1/40th that of a car wash. Wow!
I'm not trying to pump you up with false hopes - not everyone achieves this level of success this quickly. But you can certainly expect to make a great living if you work hard and smart, and John shows just what can be accomplished in this fantastic business!
Introducing the NEW Hot Dog Biz 101 Interactive Edition
Just Part of your Hot Dog Profits Premium Membership
– Instant Access From Your Computer, Smart Phone, or iPad –
Start Building Your Hot Dog Biz Right Now!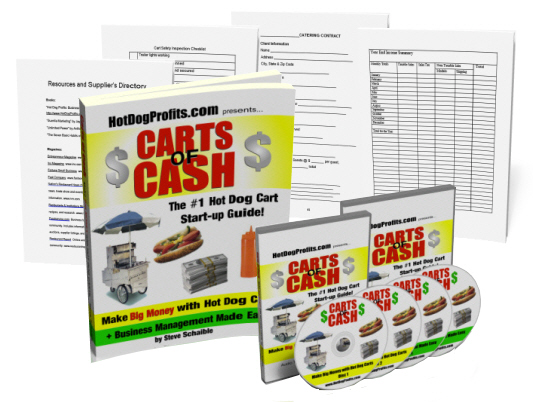 Each lesson in Hot Dog Biz 101 is now interactive. If you have a question you can ask it in the form which appears below each chapter and we'll answer it for you. You can also use this form to share ideas and get input from other Hot Dog Profits Premium Members. You are never alone. Help and support are just a click away!
I've sold a LOT of copies of my Hot Dog Biz 101 course over the years and no one in this business has a better track record of customer satisfaction. I'm extremely proud of that. There just isn't anything else that even comes close. Not at any price.
But don't just take my word for it...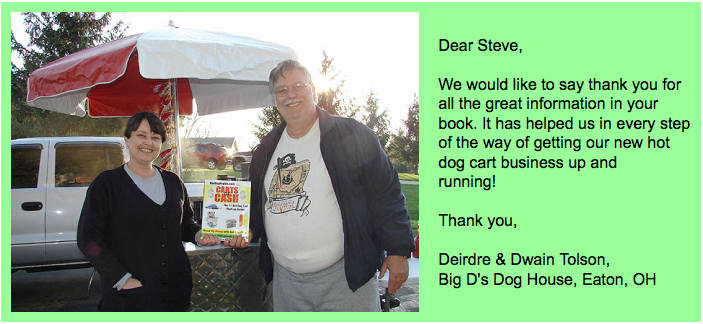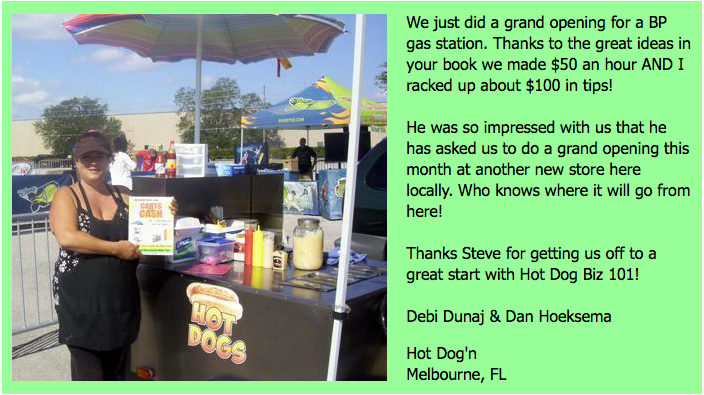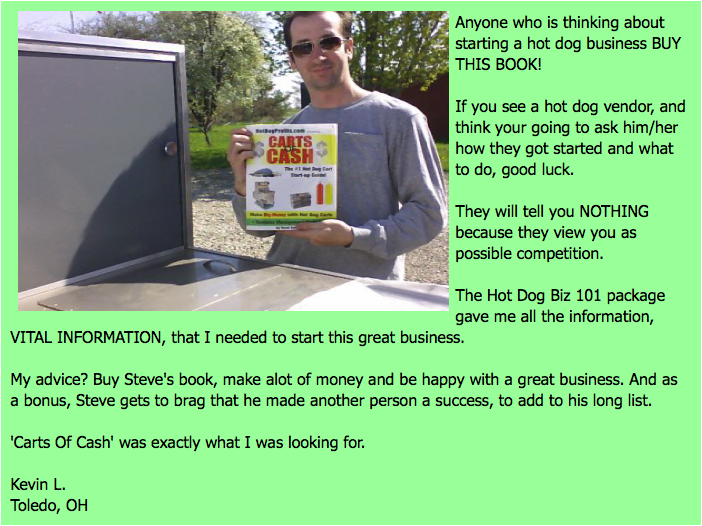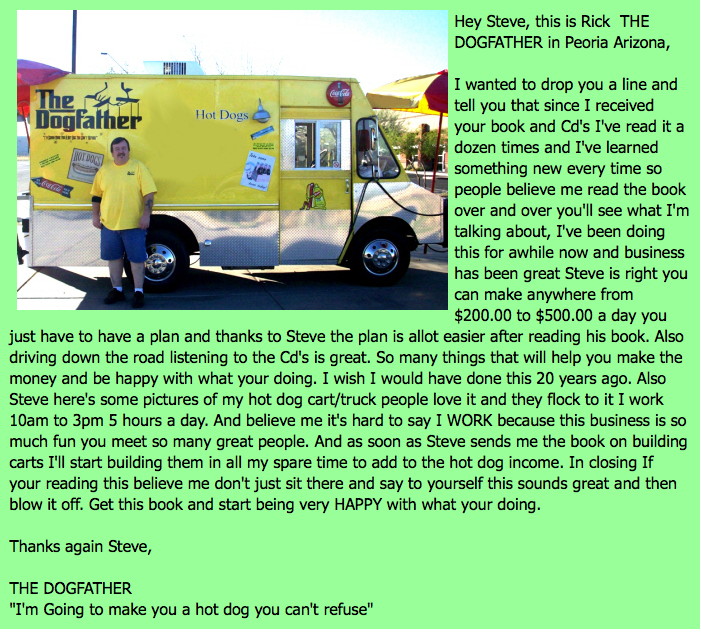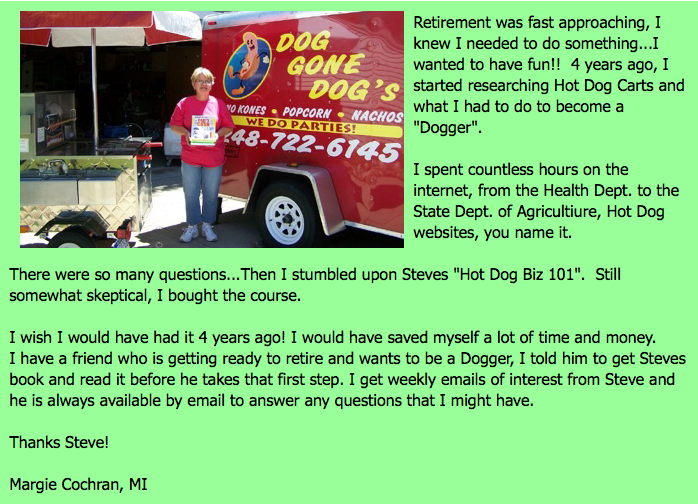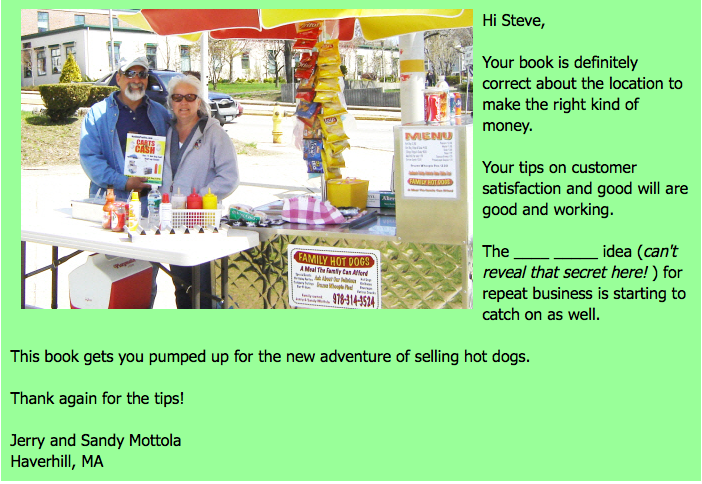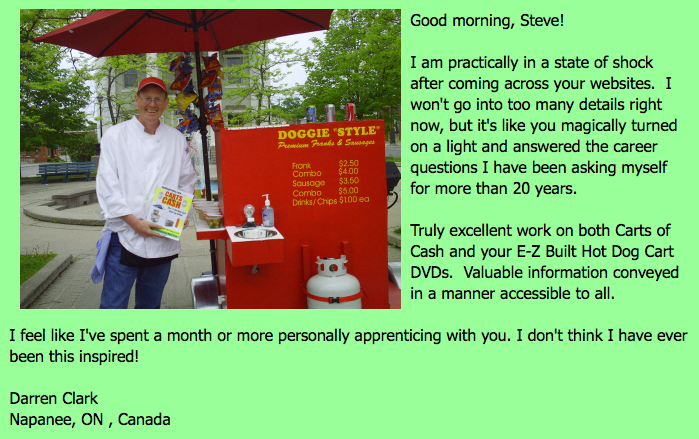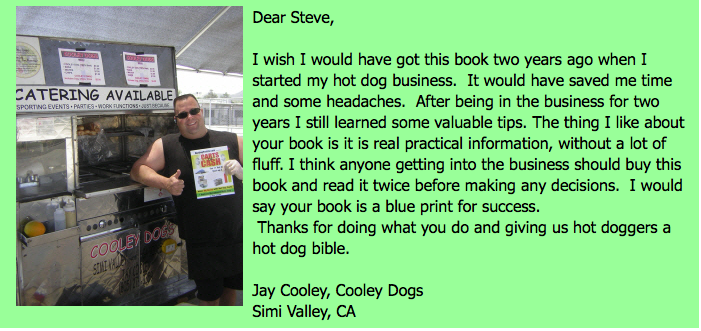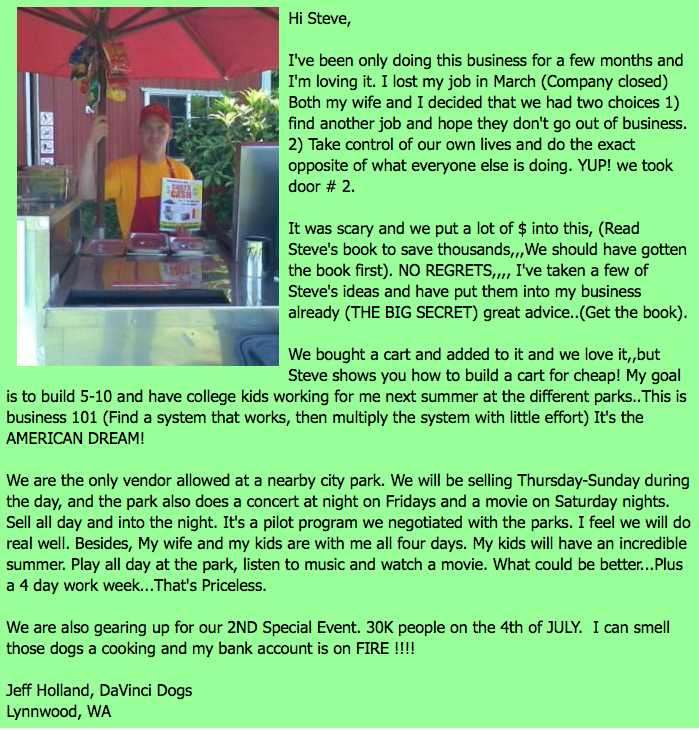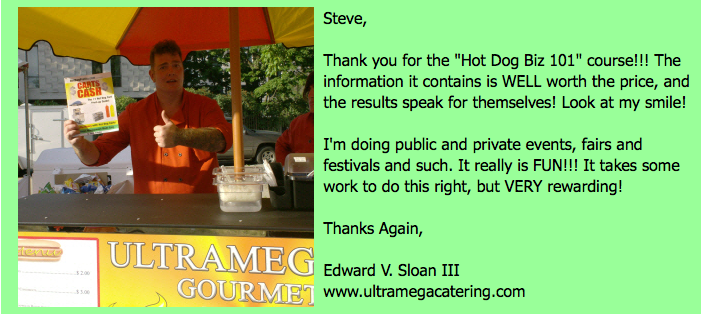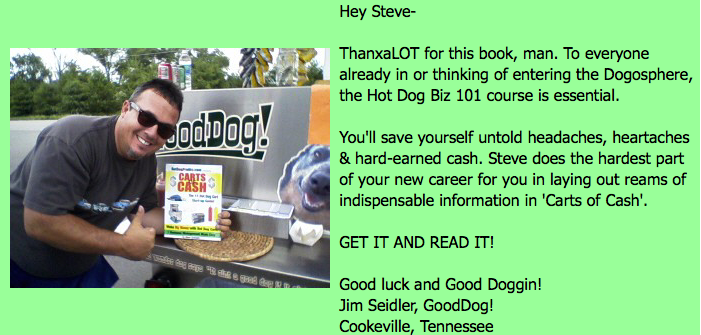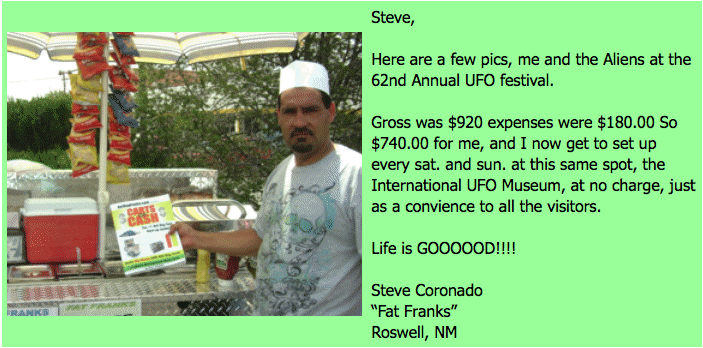 Audio: $150K Per Year Hot Dog Cart Business
I got an email from a woman named Rose asking me if I would list her hot dog business for sale.
After I heard her story I was dying to share it, so I interviewed her for my Hot Dog Cart Radio show. Find out what can be accomplished with a hot dog cart and some hard work. Click the arrow below to listen...
When You Become a Hot Dog Profits Premium Member You Get Instant Online Access to the Massive "Carts of Cash" Start Up Course with Personal Help Whenever You Need It...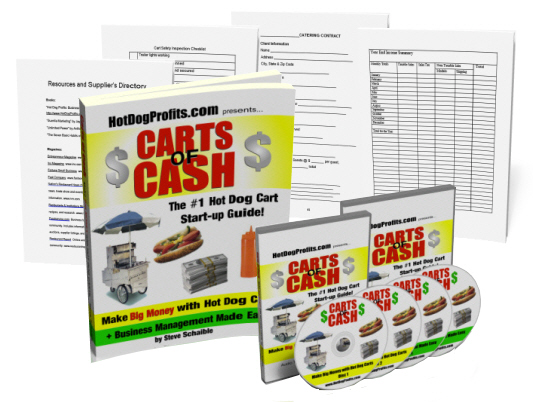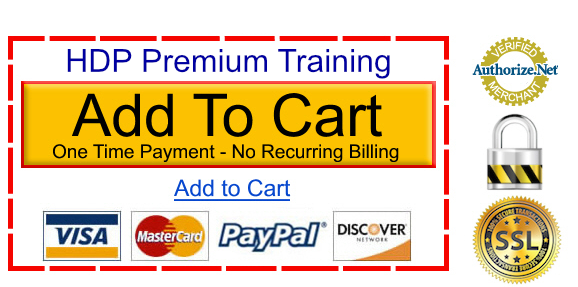 PLUS - You Get All Our Other Courses Too!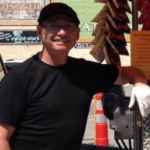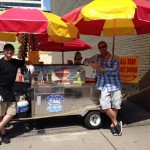 "Hi Steve, Wanted to just say a quick thanks for all your help, and the services your site provided me in making the jump into the Hotdog Business. Great information, great weekly news tips."
-Mike Q., der Frankfurter Cart, Hot Dog Profits Premium Member