Get instant access to  all the HDP Premium interactive training products with a Hot Dog Profits Premium Membership. Includes the Hot Dog Biz 101 start up training, the E-Z Built Hot Dog Cart Video and Plans Package, A Day at the Hot Dog Cart Advanced Video training, Free Website for your business, a 5 day free trial of the Hot Dog Cash Tracker bookkeeping software and much more.
Already a Member? Click here for access to the Hot Dog Biz Startup Marketing Consultation.
Not a Member Yet? Read on to learn more about this particular course, included with the Premium Membership.
Hot Dog Business Start Up Marketing Consultation
- Interactive Online Edition
Listen in as I conduct a private one on one hot dog business marketing consultation.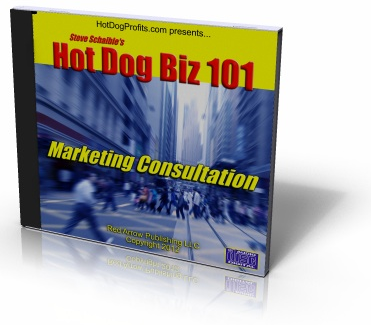 I used to offer private consulting for hot dog business start up clients. I have personally worked with everyone from college students running a single cart on campus, to a retired vice president of Wendy's Hamburgers on starting up a nationwide hot dog cart franchise operation.
Although I enjoy doing private consultations, the time involved got to be too much. So I decided to raise my hourly fees, not to make more money but to severely limit (end) the consulting part of my business.
While I am more than happy to talk to you on the phone for five minutes for free, I just can't do the high cost half hour to one hour intensives anymore. However, I did one recently as a personal favor for a man starting a brand new hot dog cart operation in Illinois but only on the condition that I could record it and share it with you.
The result is a 47 minute private marketing consultation that you can listen to as if you were a fly on the wall.
If you ever felt you could benefit from hiring a business consultant but couldn't afford it, this is your chance. After you listen, you can ask questions and interact with other Hot Dog Biz 101 Students because this is the interactive version.
I think you'll get a lot of great insight into what it takes to market your new or existing hot dog business.
The Hot Dog Biz 101 Start Up Marketing Consultation

Part of the Hot Dog Profits Premium Membership

When you become a Hot Dog Profits Premium Member you get The Marketing Consultation Recording, and a whole lot more - You also get Hot Dog Biz 101, E-Z Built Hot Dog Cart Video and Plans Package, A Day at the Hot Dog Cart Advanced Video Training Series, a FREE WEBSITE for your business, and All The Other Mobile Food Business Courses We Have Ever Produced!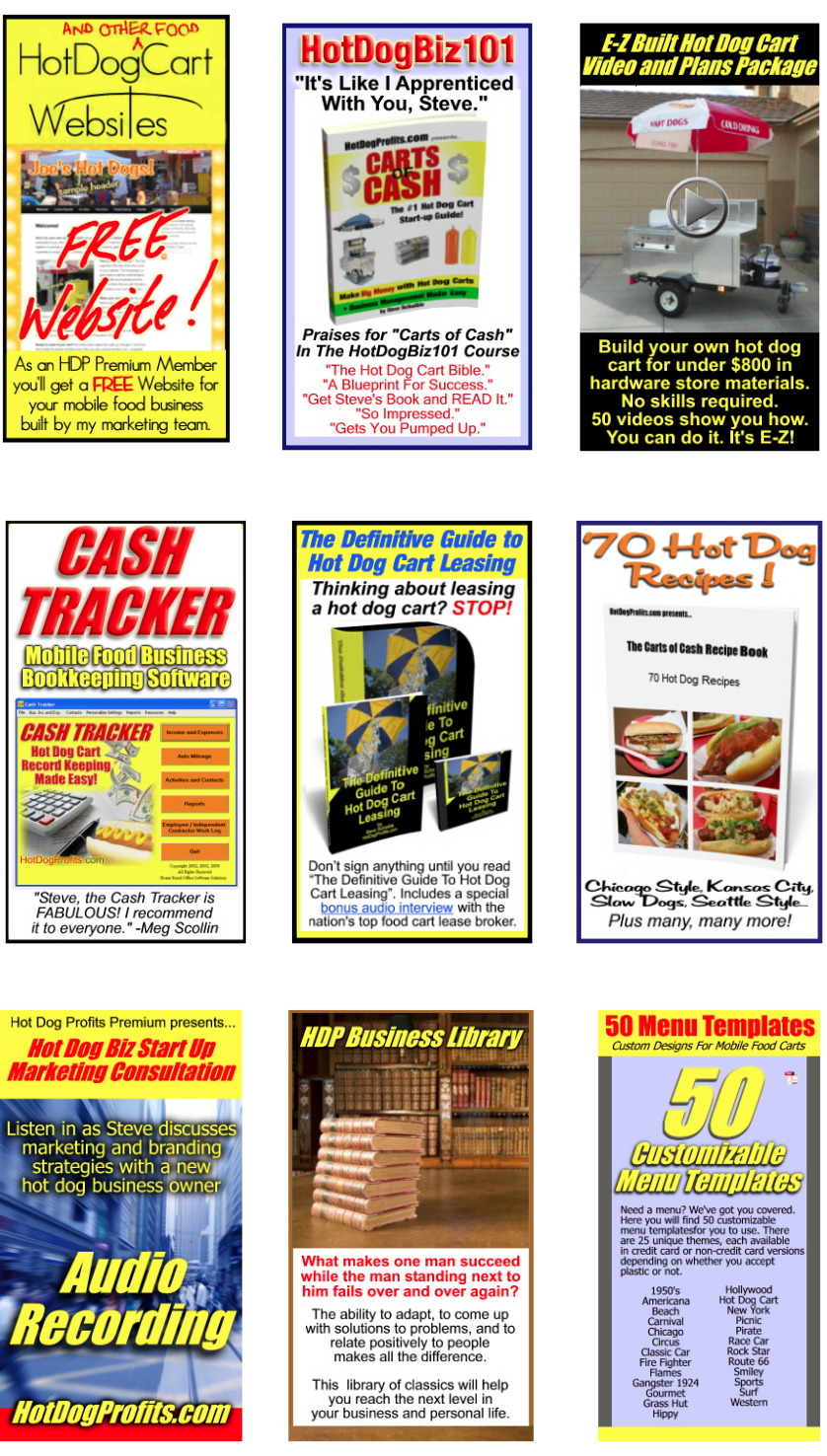 A single payment of $69 gets you every course we have ever come out with.
You get everything you see above and you get it right now, instantly, even if it's two in the morning!
This gets you access to ALL of the Hot Dog Profits Premium Courses.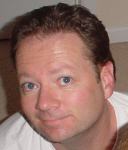 "Click the add to cart button above, choose your password, and come on in. I can't wait to help you get started!" -Steve
What are our customers saying about their Hot Dog Profits Premium Membership?
"I've been reading all of the material I received with my membership and it's invaluable, thank you, it's the best money I've ever spent."
-Mary Jones, Hot Dog Profits Premium Member
"Really, you give way more than the money's worth to your Premium Members. Thanks for that."
-Richard Strawder, Hot Dog Profits Premium Member
"People if you are running a cart and don't jump on this you're crazy. If you are new to to the biz
THESE ARE the main tools. Even if your an old timer there is plenty of info don't wait. I will make sure everyone
knows about this, really they need this."
-Peter Schumate, Hot Dog Profits Premium Member
"I have to say, I am just astounded at the amount of information. If you are even slightly considering
getting into this business, this is a must. You really don't know how good this is until you buy it."
-Aaron Siegel, Hot Dog Profits Premium Member
"Thanks for this incredible offer. My son is also looking into slingin dogzz with me so that's part of the reason I purchased this
package. He is going to help me on Friday with my first event. A little nervous (400 dogzz) but going to give it our best."
-Jeff Duncan, SGTDzz Hot Dogzz, Hot Dog Profits Premium Member