Get Your Free Custom Hot Dog Cart Website.  Built-in Automatic Software Creates Instant "Regular Customers".  Here's How it Works... 
This is the first thing you should do. You don't even need a cart yet.  All you need to do is think of a name for your free website and we will do the rest. In fact, if you change your name later it's no big deal to update it, so there is no excuse not to get started today.
Don't wait until your business is up and running.  You can (and should) start building a customer list TODAY. How great would it be to have 100, 200, even 500 customers that you can email and invite to your cart on opening day?
We borrowed some marketing tactics from the movie industry and incorporated them into the free website that we built for you.  That's why we call it the "Blockbuster" marketing method.
When do the big movie studios start building an audience for their upcoming releases?  Do they wait until opening day?  That wouldn't be very smart, would it?
You start seeing trailers for blockbuster movies months before the movie is even finished shooting!  You need to do the same thing with your hot dog biz - start building a customer list long before you open for business.
When you are ready to open you will already have lots of "pre-customers" who are ready to come out on opening day and try your hot dogs.  You could have hundreds of people show up!
Is your business already open? Congratulations, this is for you too. It's never too late to start building a customer email list that you can use to bring customers to your cart more often. It increases sales by leaps and bounds!
Continuous Automatic Marketing.  Whenever you have something to say, all you have to do is create one message and hit the "publish" button.  Your message will go out to everyone on your email list all at the same time.  This works great for broadcasting your location, specials, etc. Instant crowd on demand!
Here's how it works.  Your free website comes with a built-in automatic Customer Email List Builder - This is soooo important. A customer email list is your biggest business asset. It will bring you a crowd of hungry customers the first day you open for business.
It also frees you from depending on a good location for generating your sales because the customers on your email list will follow you wherever you go!
Email is 10X better than Facebook because 80 percent of your Facebook posts get lost in your customer's feed. They never see them.  However... EVERYONE READS THEIR EMAIL and they check it many times a day.
You MUST have an email list if you want to reach all of your fans with specials, contests, and location updates.
This automatic email marketing system is included in your free hot business website.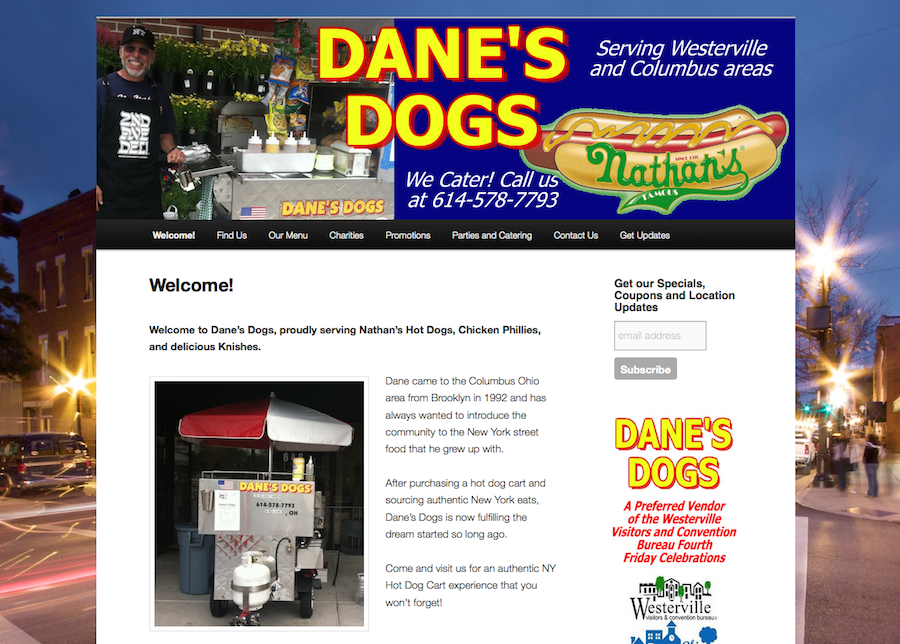 Your free website will come 95 percent finished. All you have to do is add your own pictures and text. It's super easy.  We give you free videos that show you how to do it yourself. No computer skills are needed.
Don't want to mess with it at all?  Email us your pictures and text and we will do the whole thing for a small fee.
You do not have to be up and running yet. You don't even need a cart yet.  It's never too early to begin marketing your business.  You need to be building a fan base for your tasty products right now.
This is what will happen if you wait too long.  You know you're going to get a website for your hot dog cart sooner or later, right?  Well, the sooner you do it, the bigger your sales will be from the get-go.  Delaying this step can easily cost you thousands of dollars in lost sales right off the bat.  Not a good way to start.
It's free.  My team is going to do it for you.  Why wait?
Free?  Really?  Yep. Here's how we can build you a website without charging you.  All the websites in the world are stored on special computers that are always connected to the internet so visitors can view them. This is called "hosting" the website.
This program is being sponsored by a hosting company. When you get your hosting package from them, they pay my marketing team to build your website. It's a win-win-win.
No worries, hosting is cheap - between $3 and $7 per month depending on how many months you buy at once.
Getting your domain and hosting will only take about five minutes, then you can go back to what ever you were doing. I will take it from there.
How To Get Your Free Website
Sign up by following the simple instructions below.

This means huge savings. especially if you choose a billing cycle of six months or more.
Don't choose WordPress, Cloud, VPS, or Dedicated hosting plans. All you need is basic web hosting.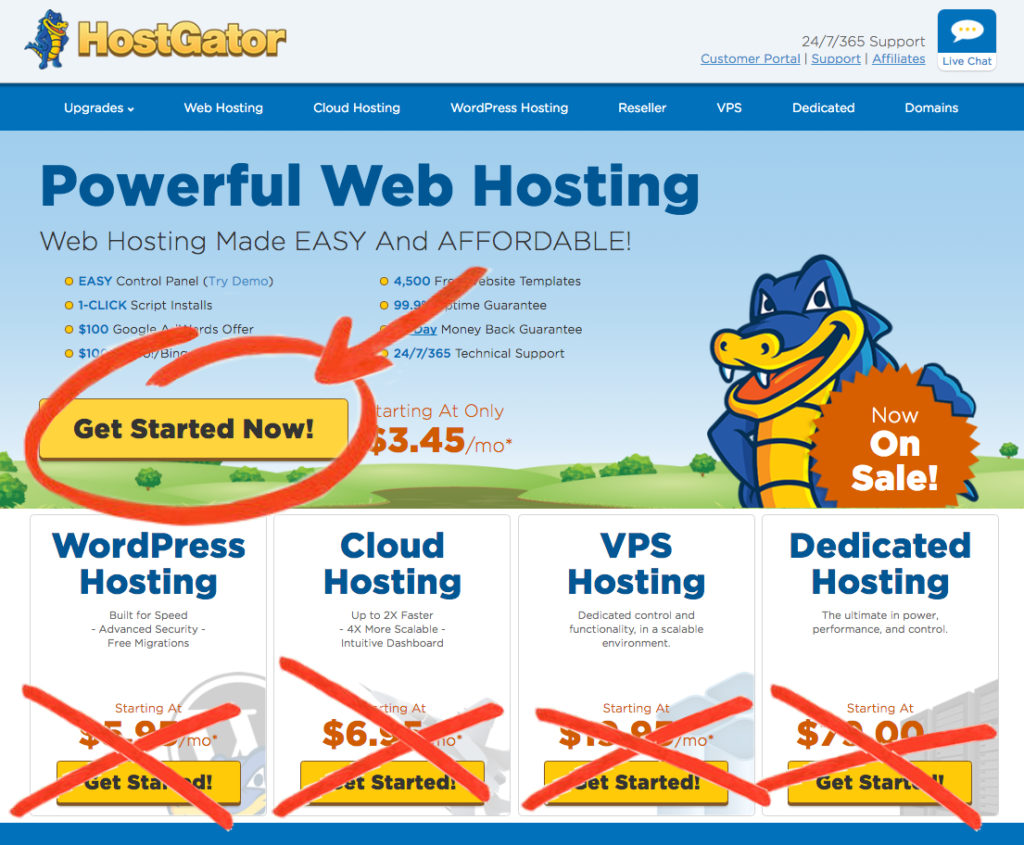 Next, choose your billing cycle. If you are on a budget you can go month to month for under $10 but I highly recommend at least a 6 month billing cycle to get the most out of your 25% off coupon code, FREEHDCWEB.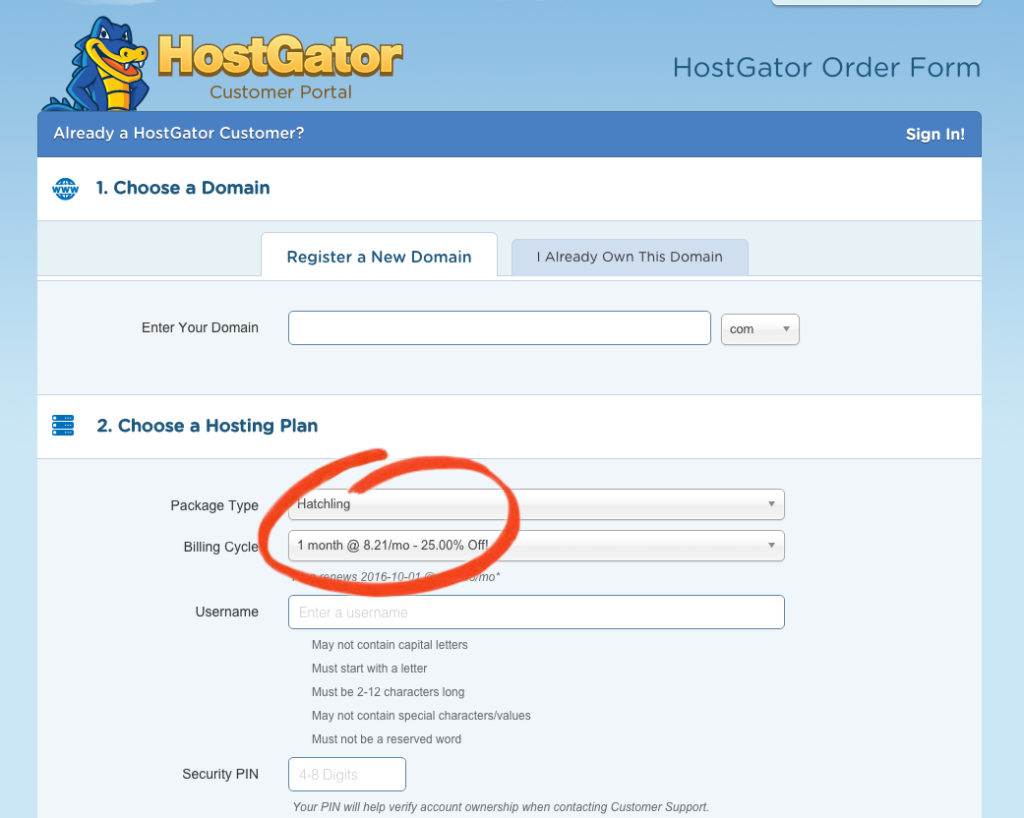 *Only new hosting packages are eligible for this program.
You can check or uncheck any of the Additional Services if you don't want them. This is up to you. Be sure to add coupon code freehdcweb in the coupon box, then click the Validate button to apply the coupon to your order.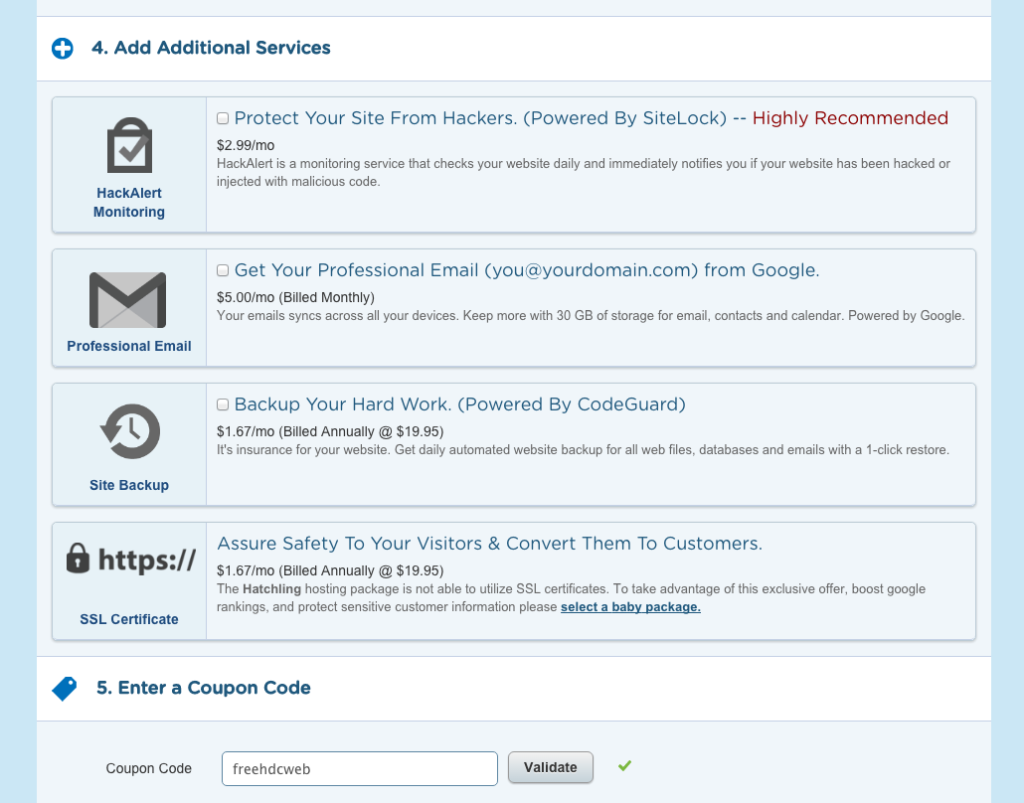 That's it. Enter your payment info and you are finished!
2. You will receive a confirmation email containing your login information. Forward that confirmation email to us at this email addresses: steve@HotDogProfits.com. Once we receive your login info my marketing team will build your website and install it for free.
Talk soon,
-Steve
P.S. Remember, if you are thinking about starting a hot dog biz this is the first thing you should do. You don't need a cart or anything else to get started building your customer list. All you need is this free package. So, even if you won't be up and running for a long time you've got to do this right now. The sooner you start the more customers you will have on your opening day. Good luck!
___________________________________________________________
Let Us Build One For You - For Free - Today!