Get instant access to  all the HDP Premium interactive training products with a Hot Dog Profits Premium Membership. Includes the Hot Dog Biz 101 start up training, the E-Z Built Hot Dog Cart Video and Plans Package, A Day at the Hot Dog Cart Advanced Video training, Free Website for your business, a 5 day free trial of the Hot Dog Cash Tracker bookkeeping software and much more.
Already a Member? Click here for access to "A Day at the Hot Dog Cart" Training Videos.
Not a Member Yet? Read on to learn more about this particular course, included with the Premium Membership.
"A Day at the Hot Dog Cart" Training Videos
Here you will find more than 60 advanced hot dog vending videos organized into 7 chapters. We're adding more on a continuing basis.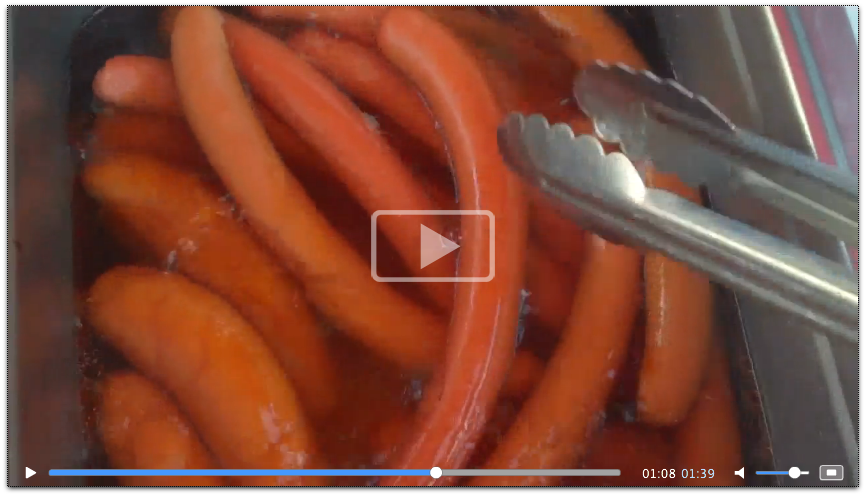 Want to see a Hot Dog Biz 101 graduate in action?  Then check out my new full blown video course titled, "A Day at the Hot Dog Cart". If you have always wanted to tag along with successful hot dog vendor and see what it's really like on the street, then this is the opportunity you've been waiting for.
Have you ever tried to get information about the biz from someone who already runs a cart in your area? If so, then you probably know that they view you as future competition and are very reluctant to help you.
Problem solved. In the "Day at the Hot Dog Cart" video series you'll learn all the tips, tricks, and secrets that a local vendor would never, ever let you in on. Here is your chance to spend a day at a real working hot dog cart while looking over the shoulder of an experienced professional.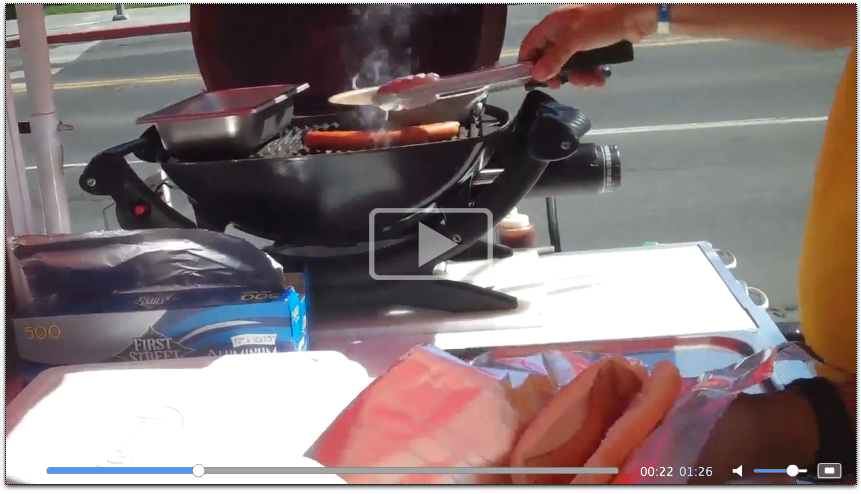 I'd like to introduce you to Dale. Dale completed the Hot Dog Biz 101 course and he now runs a very successful hot dog biz of his own in Reno, Nevada.
We recently hired him to shoot a massive amount of video of himself in full "sling" so we could share it with you here at Hot Dog Profits Premium.
I have also added some videos of myself in action at my cart in St. Louis. Sometimes there are more than one way to do things and I'll show you some alternative techniques. The more options you have the better, right?
When you combine the in depth knowledge that you'll get in the Hot Dog Biz 101 Course (also included with your Premium Membership) with the hands-on know you'll receive in "A Day at the Hot Dog Cart", you will hit the streets with the confidence of someone who has been slingin' dogs for years.
When You Become a Hot Dog Profits Premium Member You Get Instant Online Access to "A Day at the Hot Dog Cart" Course with Personal Help Whenever You Need It...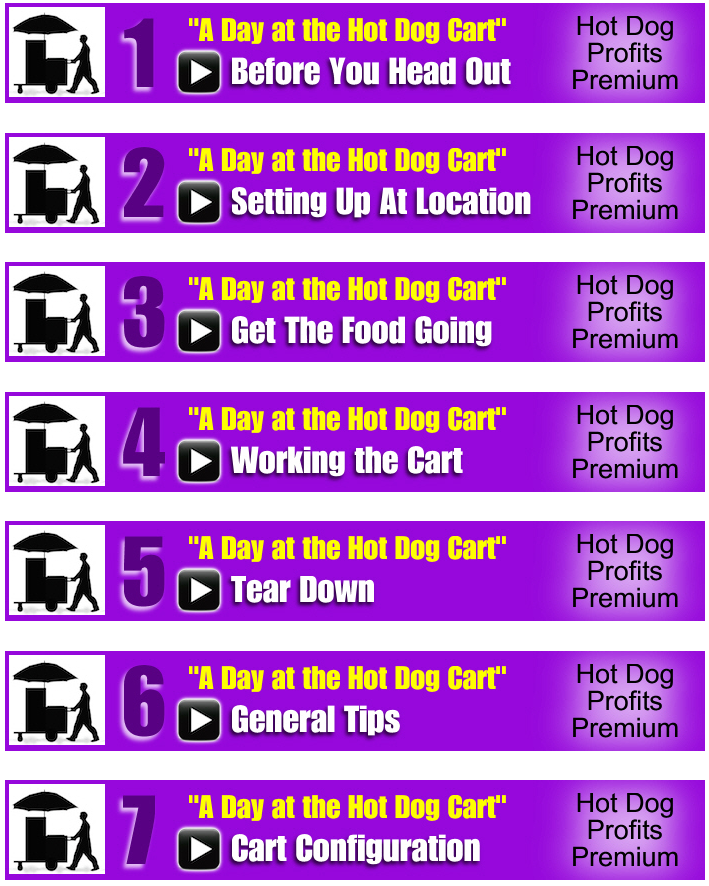 PLUS - You Also Get All The Other Mobile Food Business Courses We Have Ever Produced!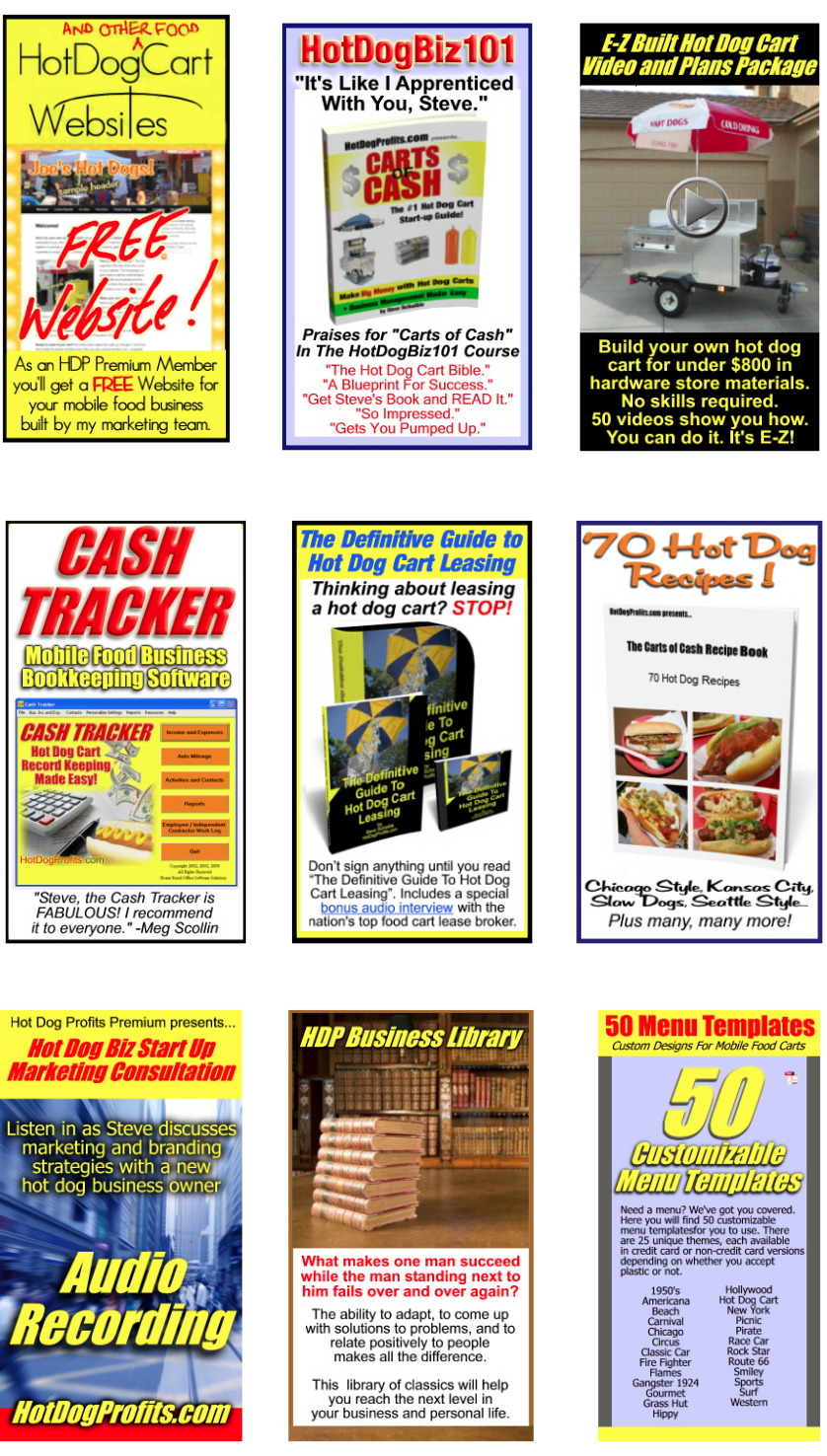 A single payment of $69 gets you every course we have ever come out with.
You get everything you see above and you get it right now, instantly, even if it's two in the morning!
This gets you access to ALL of the Hot Dog Profits Premium Courses.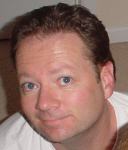 "Click the add to cart button above, choose your password, and come on in. I can't wait to help you get started!" -Steve
What are our customers saying about their Hot Dog Profits Premium Membership?
"I've been reading all of the material I received with my membership and it's invaluable, thank you, it's the best money I've ever spent."
-Mary Jones, Hot Dog Profits Premium Member
"Really, you give way more than the money's worth to your Premium Members. Thanks for that."
-Richard Strawder, Hot Dog Profits Premium Member
"People if you are running a cart and don't jump on this you're crazy. If you are new to to the biz
THESE ARE the main tools. Even if your an old timer there is plenty of info don't wait. I will make sure everyone
knows about this, really they need this."
-Peter Schumate, Hot Dog Profits Premium Member
"I have to say, I am just astounded at the amount of information. If you are even slightly considering
getting into this business, this is a must. You really don't know how good this is until you buy it."
-Aaron Siegel, Hot Dog Profits Premium Member
"Thanks for this incredible offer. My son is also looking into slingin dogzz with me so that's part of the reason I purchased this
package. He is going to help me on Friday with my first event. A little nervous (400 dogzz) but going to give it our best."
-Jeff Duncan, SGTDzz Hot Dogzz, Hot Dog Profits Premium Member