Check out these photos sent in by E-Z Built customers from around the world.
One thing you will notice is how easily the basic plans can be modified to give you the EXACT cart that you've always wanted. Browse through the pictures to get some great ideas for your own E-Z Built hot dog cart. If you can dream it, you can build it - it's E-Z!
When you finish your E-Z Built Hot Dog Cart please send me some pictures of it so I can post them here.
Click the pictures below for a larger version. Then click on the right side of the enlarged photo to see the next picture, click the left side to go back.
Don't have access to the hot dog cart building videos?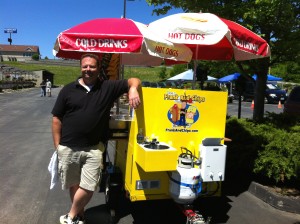 Want to watch the videos right now? I can show you how to make your own professional hot dog cart out of commonly available hardware store materials for about $799 so you can start making money this week.
You can have instant online access to the complete E-Z Built Hot Dog Cart Video and Plans Package. It works on computers, smart phones, iPads, tablets - anywhere you have an internet connection.
You'll get more than 60 videos showing me building the E-Z Built hot dog cart that I still use today in my own hot dog biz. You'll see every single step. Nothing is left to the imagination.
Just follow along and do what I do. You can't make a mistake. But if you do, just email me or call me on my cell phone at 636-399-2460. I'll help you over any bumps.
Click Here to get instant online access now.