The Cash Tracker Hot Dog Cart Bookkeeping Software will save your sanity. If you run a hot dog cart or food truck you need this critical tool just as much as you need hot dogs, buns, and mustard!
Click The Orange Button To Try Cash Tracker FREE.
We'll give you the fully functional Cash Tracker Software, plus the full 18 minute video tutorial that explains how to install, run, and use it. You'll have five days to play with the software and see how incredibly easy Cash Tracker is to use. After that you will need to get an activation code below in order to continue using the software. If you decide it's not for you, simply do nothing. You will not be charged.
"I started my new hot dog cart business on May 1st. of this year. My business has grown so fast that I can no longer do it on a cart so I have purchased a trailer to expand my menu. My best advice (and I swear no one is paying me to say this) is to buy the Cash Tracker hot dog cart bookkeeping software. It has saved my sanity. I was covered in paperwork. The business is so much fun but I dreaded to come home to the paperwork. Believe me, this software is well worth the price. Have fun!!"
-Karen's Lunch & Munch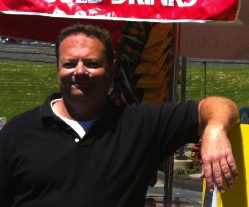 From: Steve Schaible, founder of King Weenie Chicago Style Hot Dogs, Frank and Chips Hot Dogs, author of the Hot Dog Profits Training System, and designer of the E-Z Built Hot Dog Cart. -St. Louis, MO
Don't get ripped off!
If you're not keeping accurate records of all your expenses, you're losing 20 percent of your hard earned profits every time you go out and sell hot dogs. You're losing up to one hundred dollar on every five hundred dollars in sales because you are paying too much in taxes!
Saves you thousands of dollars each year.
If you had an easy way to keep good records, you could deduct all your expenses. That means at tax time, you'll get  $20 back on every $100 worth of stuff you bought for your business during the year because 20% happens to be the average tax rate.
That includes hot dogs, buns, chips, sodas, supplies, propane, and more. We're talking many thousands of dollars that are rightfully yours. Don't just let the government keep it!
The IRS is watching... Audit proof your hot dog cart business.
Scared of the IRS? You should be - unless you are one of the smart folks who use Cash Tracker! The IRS says, "if you can't prove your deductions, then you have no deductions". They don't mess around, but you will have nothing to fear when you know for a fact that your books are in perfect order and deadly accurate. That's the peace of mind that only Cash Tracker can give you.
Bookkeeping - A Necessary Evil.
Does the thought of bookkeeping make you want to jump out a window?  I don't blame you. I hate bookkeeping too. Let's face it - bookkeeping is confusing and boring. And the software that's been available up to now is really hard to use correctly unless you have an acounting degree - I know, because I've checked it out.
Until now, you only had two choices - BOTH of them BAD...
1. Keep your books by hand on paper – this is bad!  Paper gets damaged. Paper gets lost. People move papers when you aren't looking "just to help clean up" and the paperwork ends up in some kind of fourth dimension where no human being will ever find it again. Just like you, I've been there, and it's bad….VERY BAD!
2. You could go out and buy a complicated program like Quick Books Pro for $200, then take a semester of accounting down at the community college before you can even attempt to use it – this is also bad, and I know it from painful personal experience.
Did you know that Quick Books comes to you totally blank? You have to set up the whole thing yourself! If you don't know accounting, if you don't know what goes where, you're dead in the water! It's like buying a computer that you have to put together yourself with a book of instructions and a soldering gun…VERY BAD!
BUT I HAVE GOOD NEWS!
I hired a professional software developer to make me a custom
bookkeeping program designed specifically for hot dog carts and I'm going to share it with you! Now, my bookkeeping is as easy as clicking a button…. AND YOURS CAN BE TOO!
Finally - you don't need to know bookkeeping to run a great hot dog cart business. With Cash Tracker, you don't need any bookkeeping skills, and you don't need to know anything about accounting. Cash Tracker is ready to use right out of the box. Everything is already set up specifically for hot dog cart businesses and it comes pre-loaded with all the accounts you will need.
Just fire it up and go. Download your copy and you're ready to start keeping your books like a pro. I also told my developer to include a ton of extra features that allow you to track everything you do in your business.
"Steve, the Cash Tracker hot dog cart bookkeeping software is FABULOUS! My husband struggled trying to keep records and finally I just went ahead and bought it for him. It has changed his world. I recommend it to everyone." -Meg Scollin
Cash Tracker does more than just keep the books for you.
Besides recording your income and expenses, you can also enter your business mileage, keep a record of your daily activities, and store the names, addresses and phone numbers of all your business contacts.
There is also an entire section for managing your employees and/or your independent contractors. It even has a built-in time card function which calculates paycheck amounts for you.
Instant financial reports at your fingertips.
When you want to see how your business is doing, Cash Trackers crunches the numbers for you, and generates your choice of several different reports including a profit and loss statement. Tax time has never been easier.
Save hours of time and stress at tax time!
What if you could just click a button at the end of the year and have all the numbers done for you? No more digging for receipts, fussing about where you put this or that, no more stress and arguments as you're scrambling around to meet the deadline and avoid IRS late penalties. At the click of a button, you'll have a single report that you just hand to your tax preparer. Voila!
"I have been using Cash Tracker now for Three years and love it. My account also is very pleased to see my reports in a organized format." -Mark, Pooters All American Hotdogs
Build A Business That You Can Sell For A Huge Profit.
Your business may be worth more than you think.
I had no idea when I first got started, but a hot dog cart business is really easy to sell mainly because of three things:
1) It's easy to understand
2) It's a fun business
3) It's a cash business
But there is one thing about a cash business that can really screw you up – sloppy or non existant bookkeeping, which unfortunately is the rule rather than the exception in our industry.  It's not your fault, most of us were never taught this stuff.
Do you want a job or a business? It's your choice.
If you can produce good income and expense records, as well as a professional profit and loss statement, you'll go from owning your own job to owning your own business.  That is a critical concept, so pay attention here.  If you don't keep good records, you will never be able to sell your hot dog cart business.  So really all you have is another job.
Start your business with the intention of selling it, even if you don't think you ever will. Because the day may come when you get offered ten times the amount you have invested in your business. That's usually an an offer that's simply too good to refuse.
Then what do you do?  Find another location and do it again.  It will even be easier the second time.  But there is no way in heck you can sell a business without having really good records. That's always been the biggest stumbling block.
______________________________________________________
What are Cash Tracker users saying? Click the arrow to find out...
______________________________________________________
My $20,000 Pay Day.
While you can make great money selling hot dogs, a major pay day comes when you decide to sell your business. Several years ago I started my first hot dog cart business. My start up costs were under $1000. Over the next few years, I grew my business into a pretty successful operation with lots of repeat customers who really loved what I was doing, and I eventually had FIVE separate offers to buy my business.
When the time was right I took the highest offer and sold my business. But I could never have gotten even one tenth that amount if I didn't have good financial records to show the buyer.
This was back before I had Cash Tracker, so my books were kept the old fashioned way - a major pain in the behind, but it was well worth it when I took home $20,000 in one afternoon.
Now anyone can have professional financial records for their hot dog business. Let me rephrase that because this is a key concept.  With the release of Cash Tracker, EVERYONE will have professional financial records. That means you will have a true asset - a business you can sell if you ever want to.
This is a game changer. Don't be left behind.
I think Cash Tracker is one of the biggest things to happen to the hot dog business in a long, long time. And I am really excited about it. The playing field is now level. I know it is going to help a whole lot of people build real businesses that are worth real money.
And as a result, our whole industry will rise to a new level of professionalism and profitability. This is still the ground floor, you are getting in at the perfect time.
I just finished making a video which shows Cash Tracker in action and you're going to be amazed at how easy it is to use.  I also wrote a special report which lists 101 deductions that you can use in your hot dog business and I'm giving that report away for free to anyone who wants it.
Video - Cash Tracker in Action
Cash Tracker is built for the Windows operating system.
Click The Orange Button To Try Cash Tracker FREE.
We'll give you the fully functional Cash Tracker Software, plus the full 18 minute video tutorial that explains how to install, run, and use it. You'll have five days to play with the software and see how incredibly easy Cash Tracker is to use. After that you will need to get an activation code below in order to continue using the software. If you decide it's not for you, simply do nothing. You will not be charged.
Cash Tracker is tax deductible - and it pays for itself very quickly. If you use this software to record the expenses that were previously slipping away from you, Cash Tracker will pay for itself after less than $397 dollars in recorded business expenses. You have probably spent that much already...
I'm also including a SPECIAL REPORT entitled, "101 Hot Dog Cart Business Deductions" for free. This report lists 101 business deductions that could save you over $500 in taxes, which will far more than pay for your Cash Tracker software!
_________________________________________________________________
To Activate Your Software (First Time Users):
Please click the button to Purchase an Activation Code
Was $99 -

NOW JUST $54 for an entire year.


Each additional year is just $17 to cover licensing and continuing tech support.
_________________________________________________________________
To Renew Your Software (After the First Year):
Please click the button to Purchase a Renewal Code
$17 for an entire year.


_________________________________________________________________
Cash Tracker.
Mobile food business bookkeeping
with the click of a button.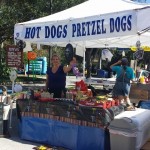 "You taught me everything I need to run a successful business by being a Premium member. I love the Cash Tracker. Book keeping is not my forte and the Cash Tracker is so easy I have no issues with keeping up with my books. My accountant loves it also, it makes his job so much easier."
-Ann, Hot Dog Profits Premium Member