Membership Information
Starting a Hot Dog Cart? Absolutely Everything You Need to Know To Start, Run, and Grow a Successful Hot Dog Vending Business is Right Here.
Join Hot Dog Profits Premium Today and You'll Get Instant Online Access to All of These Hot Dog Cart Vendor Training Programs...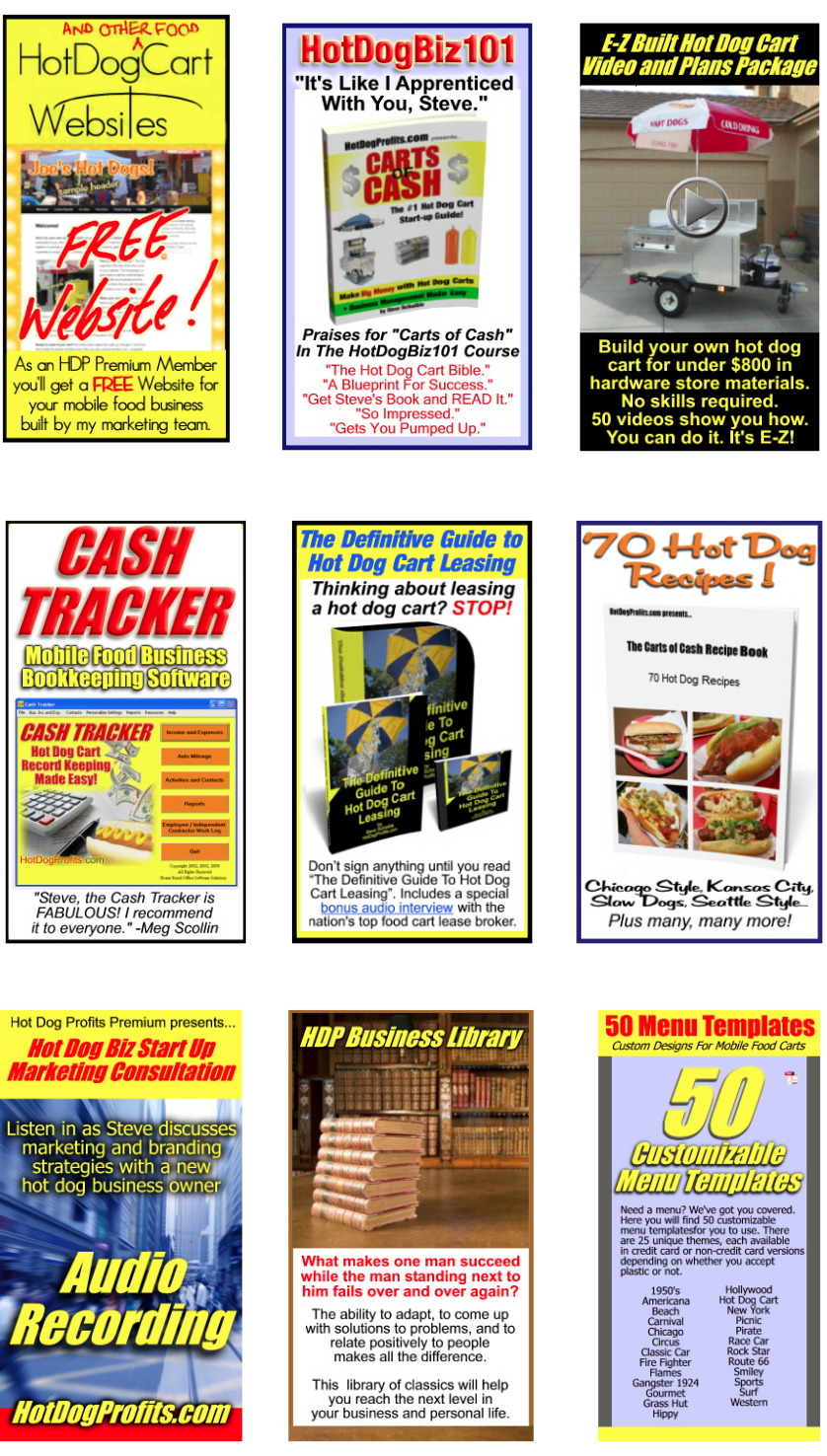 PLUS - Your Membership Includes Personal Help From Steve Whenever You Need It. You Don't Have to Start Your Hot Dog Business All By Yourself!
A Hot Dog Profits Premium Membership has everything you need to succeed. This is truly the cream of the crop of mobile food business start up training. We cover everything you need to know to start, run, and grow your own profitable mobile food business.
Hot Dog Profits is the originator of online food cart training. We have been bringing new hot dog slingers up to speed since 2007. In recent years a bunch of copy cats have sprung up, many of them trying to fool you with similar sounding names. If you have any doubts (and I don't blame you), please call me on my personal cell at (636) 399-2460. I courteously answer my own phone and I would be happy to speak with you before you join my membership.
There are currently over 1600 highly satisfied HDP Premium Members. Why? Because even though Hot Dog Profits Premium is the biggest, best mobile food business training you can get, we have pledged to keep it affordable. We know that those who need this training the most are often those who are least able to pay for an expensive course. We get it and we're here to help you.
The HDP Premium Courses will teach you literally everything - from how to legally structure your business, to getting locations to set up at. From cooking the food and running the cart to managing the money that you make. We start by assuming that you know absolutely nothing about opening a mobile food business. We take you by the hand and walk you through the whole process, step by step.
Why join HDP Premium? Because we can cut months off of your learning curve. Everything you need to know is in here. Have you been wondering about commissaries, permits, locations, inspections, equipment, and all the other details required to be successful? I'm going to give it to you straight. If you've never done this before, you owe it to yourself to get some affordable training. You'll learn more inside the private members area than you would in months of very expensive and embarrassing trial and error at the job site. It's not an expense. It's an investment in your success that will return 10x the cost on opening day.
You Get Instant Online Access to...

| | |
| --- | --- |
| | Carts of Cash 2 Volume Start Up Guide - 250 pages. How to start, run, and grow your hot dog business the right way. |
| | Carts of Cash Audio Recordings - 29 audios. Listen to Carts of Cash wherever you go. Mobile device compatible! |
| | E-Z Built Hot Dog Cart Video and Plans Package - 61 Videos and printable plans + health department schematics. See how to build a professional hot dog cart for $799 using local hardware store parts. Or use the information in the videos to convert a trailer or camper, restore a used cart, or fix your existing cart when something breaks. |
| | A Day at the Hot Dog Cart Advanced Video Training - 60 training videos shot live on-site at a working hot dog cart. Get schooled by Dale, a HDP Premium graduate who is now running two carts in Reno Nevada. |
| | Free Custom Website For Your Business - Our marketing team builds and installs it for you. |
| | Cash Tracker 5 Day Trial - Mobile food business bookkeeping software. Keeps your books with the click of a button. |
| | Definitive Guide to Hot Dog Cart Leasing - Should you lease or buy? This course gives you the answer. |
| | 70 Hot Dog Recipes - Never run out of ideas for tasty creations. |
| | Hot Dog Biz Start Up Marketing Consultation Course  - Listen in as I conduct a private one on one hot dog business marketing consultation. |
| | 50 Menu Templates - Customizable menus for you to use. |
| | Accessory Discounts - Members get the lowest prices on chip clips and dog sleds. |
| | Hard Copy Discounts - Want hardcopy books, CDs, or DVDs shipped to your door? Members can get hard copies at a huge discount, but most folks find they don't need them. The online courses are actually bigger. |
A Single Payment Gives You Lifetime Access to Everything.
Here is how it works:
We'll give you a password that lets you inside our private members-only website where all of the training courses are. No clunky downloading required. It's all online. Easy!

After you log in you will have access to everything. You can read the books, watch the videos, and listen to the audios on your computer, smart phone, iPad, or tablet, anywhere you have an internet connection.

You can print out all the papers that you will need in your business such as forms, contracts, cart schematics and plans, and materials lists.

You can use your membership on the go. Log in from anywhere you have an internet connection, including your smart phone or tablet. Drive a lot? You can listen to the audio training on the road!

And most importantly, every lesson has a question and answer form at the end. If you need help with something just ask. Steve stops by the members area every day to answer any questions you might have or solve any problems that you run into. You are never alone!
There are over 1600 Hot Dog Profits Premium Members already inside the Private Members Area. We can't wait to meet you!


"Click the add to cart button below, choose your password, and come on in.
Let's get started on your new income stream right now" -Steve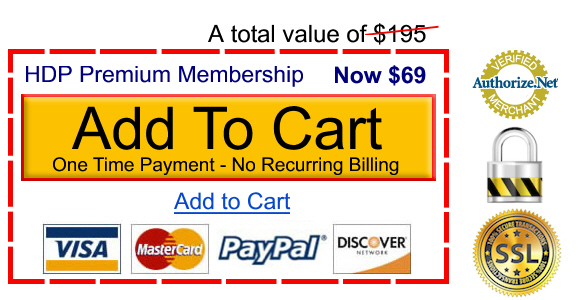 Education is not an expense. It is an investment that pays off in higher income. The better the investment, the better the pay off. If you believe that you deserve the best investment that you can get, join us today. Where else can you invest $69 on a complete education (with access to the teacher!) that has the potential to make you a six figure income?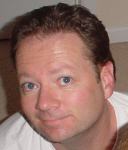 I look forward to helping you achieve your dream of running your own fun and profitable hot dog cart or other mobile food vending business!
Questions? Want to order by phone? Just give me a call me at 636-399-2460. Yes, I answer my own phone.
-Steve