Starting a Hot Dog Cart? Absolutely Everything You Need to Know To Start, Run, and Grow a Successful Hot Dog Vending Business is Right Here.
Get Personal Help with Instant Online Access to these World Class Hot Dog Vendor Training Courses. It's Everything You Need To Succeed.
"Just wanted to say that everything I've seen and read here is REALLY great and wanted to say thank you for what you have offered us newbies. This info is so valuable and nothing I've seen so far in all my research even touches what you have put together here."
-Ross Jacobs, Hot Dog Profits Premium Member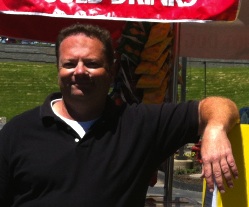 Who am I and why should you listen to me? My name is Steve Schaible and I created the Hot Dog Profits Premium Training System based on my years of experience running my own cart.
This is truly the cream of the crop of mobile food business start up training. We cover everything you need to know to start, run, and grow your own profitable mobile food business.
Hot Dog Profits is the originator of online food cart training. We have been bringing new hot dog slingers up to speed since 2007. In recent years a bunch of copy cats have sprung up, many of them trying to fool you with similar sounding names. If you have any doubts (and I don't blame you), please call me on my personal cell at (636) 399-2460. I courteously answer my own phone and I would be happy to speak with you before you join my membership.
There are currently over 1400 highly satisfied HDP Premium Members. Why? Because even though Hot Dog Profits Premium is the biggest, best mobile food business training you can get, we have pledged to keep it affordable. We know that those who need this training the most are often those who are least able to pay for an expensive course. We get it and we're here to help you.
Want a 250 page hot dog business start up course? It's in here. How about on-the-job training videos shot at a working hot dog cart? We put 60 videos into that course alone. In fact, we have over 125 videos for you to watch including a full series on building your own food cart using simple techniques and hardware store materials.
Want a website for your mobile food biz? Members get one free. How about hot dog cart bookkeeping software? We developed our own and you can get a copy inside the Members Area. There are 70 hot dog recipes, a leasing course, menus, contracts, forms, checklists, and more. They're all inside the Hot Dog Profits Premium Members Area.
I will personally help you. There are question and answer forms at the end of each lesson and each video. I stop into the Membership Area every day to answer your questions. If you can't figure something out, just ask me. You are never alone.
The HDP Premium Courses will teach you literally everything - from how to legally structure your business, to getting locations to set up at. From cooking the food and running the cart to managing the money that you make. We start by assuming that you know absolutely nothing about opening a mobile food business. We take you by the hand and walk you through the whole process, step by step.
Here's How it Works in a Nutshell
We recently put every one of our mobile food business training courses inside a private "members only" website.
Every book, every video, the software, forms, contracts, recipes - all of it. Choose the one you are interested in and
we'll give you a password so you can access it instantly, anywhere you have an internet connection - from your
computer, smart phone, iPad, or tablet. It's as easy as browsing a website and you can get it now. Even if it's 2 AM.
PLUS - Get personal help from Steve whenever you need it with the Q and A forms inside each lesson, answered daily.
You are never alone.

All of the course materials and videos are fully mobile compatible.
All forms, contracts, and hot dog cart schematics are downloadable and printable.
It's as easy as surfing the internet.
Why join HDP Premium? Because we can cut months off of your learning curve. Everything you need to know is in here. Have you been wondering about commissaries, permits, locations, inspections, equipment, and all the other details required to be successful? I'm going to give it to you straight. If you've never done this before, you owe it to yourself to get some affordable training. You'll learn more inside the private members area than you would in months of very expensive and embarrassing trial and error at the job site. It's not an expense. It's an investment in your success that will return 10x the cost on opening day.
"Steve, I would just like to take a minute to express my gratitude for the extensive resources and help offered in your
Hot Dog Profits Premium System. Your Carts of Cash book in the members area has removed road block after road block for me. The Premium membership is fantastic!
Your system is an absolutely indispensable component to success in the hot dog biz! Its straightforward, precise
manner of delivery is Awesome!!   I think of it as my tool box, when I get stuck and something seems impossible,
I reach into the tool box to find another tool that makes tackling the job easier and attainable for me!  I would have
given up without your system to get me through those difficult times. The time savings alone are worth the price
of the membership over and over again. It's the best bargain I know of!!
Thank you!"  -Ashley M., HDP Premium Member
I started my first hot dog business "King Weenie Hot Dogs" back in 2006 with a home made hot dog cart in a strip mall parking lot. My start up costs were less than $500 and I made money my very first day. So can you.
Word spread about my little hot dog stand, and it became so popular that we created traffic jams in the parking lot! Within six months I was able to build a permanent hot dog stand for less than $1500. I'll show you how to do that too.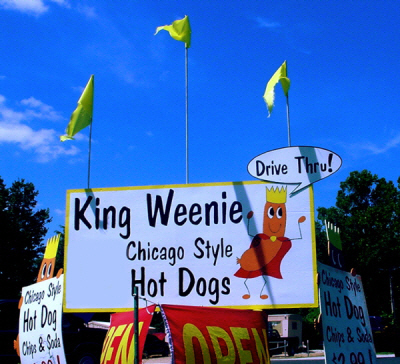 You certainly don't have to have a permanent stand to be successful. You can just keep things simple, stick with a single hot dog cart and make fantastic money. In fact, there are pros and cons to each method. You'll learn how to do it either way in this course.
In a short time I had five unsolicited offers to buy my business.
I loved selling hot dogs and I loved my new found freedom even more, so I had no intention of selling - until I got an offer so good I'd have been crazy not to take it.
The timing was right for a mini retirement, and I sold out to some really nice folks who bought King Weenie as a family business and to teach their 16 year old son about business. What a great head start he'll have in life!
I used my time off to help others get started in this great business. One thing lead to another and Hot Dog Profits Premium was born. Our mission is to equip new hot dog and mobile food business owners with all the information they need to be successful, all in one place, at prices anyone can afford.
"My first event went great! Ended up bringing way to many condiments but was a good learning experience for the
next one coming up. And just as you said many people took my flyers and cards with them. Even had two people tell
me that they were the best hot dogzz they had ever had. Not bad for the 1st time cooking them. LOL. But seriously,
thanks for all of your help Steve. The future of SGTDzz Hot Dogzz is looking much brighter now and I owe it to you
and Hot Dog Profits Premium!"
-Sgt Jeff Duncan, SGTDzz Hot Dogzz, Hot Dog Profits Premium Member
I'm Baaack! When I sold King Weenie I had to sign a non-compete agreement with the new owners. Well my non compete has since expired and I built another cart! I'm back on the streeet slingin' dogs - and having way more fun than I should be allowed to

.
Hot Dog Biz 101 - Now you can learn exactly how I did it, and how you can do it too. With the release of this course it's finally possible to get started the easy way, step by detailed step, while avoiding the many mistakes I made.
The Hot Dog Biz 101 course includes access to my 250 page book "Carts of Cash".
It takes you by the hand and guides you step by step from knowing nothing to owning a fully operational hot dog vending business.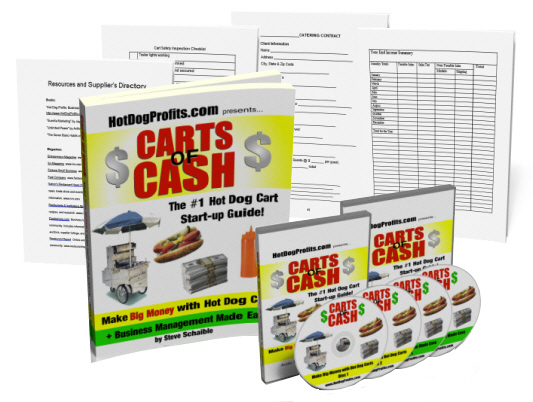 It's by far the largest and most complete hot dog course out there and now it's available right here online in a new interactive format. You will find a form after each lesson where you can ask me questions and share ideas with other HDP Premium Members who are going through the course with you.
Here are just some of the topics we'll cover together: Self employment, start up considerations, getting locations, special events, catering, marketing, advertising, public relations, and building your brand.
Also, what kind of cart to buy (or build - we show you how), equipment and supplies, permanent stands, daily operations, food safety, which foods to serve and which ones to stay away from, food prep, cooking methods, condiments, and how to purchase your inventory tax free.
We show you how to get a commissary (or how to get around the commissary requirement in some locations), making your health inspector love you, the Big Secret, licenses, permits, sales tax, how to get the best deal on insurance, growing your business, managing a multiple cart operation, and much more.
You'll get all the forms, contracts, and checklists that you will use in the day to day operation of your hot dog vending business. Print them out whenever you need them.
You also get the Carts of Cash course in audio format. You can listen on your computer, smart phone, or tablet device. This is a great option for those who do a lot of driving. It's like having hot dog school right in your car!
"I'm doing an auction gig 4 times a week. My grandaughter comes and helps me on Friday and Sat nights cause I get pretty
busy on Sat when the guns are sold. If I wouldn't have came across your site I might still be in my chair wondering where
to start. U r so awesome. Good to see you out there slinging those dawgz Steve!"  -Debbie A., Nuttin' But Dawgz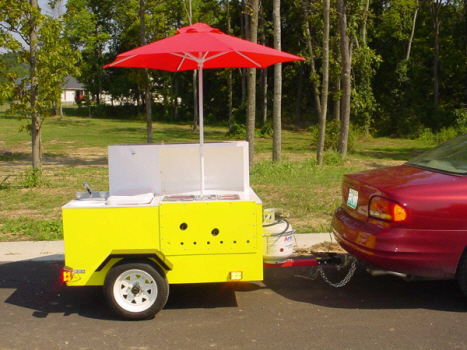 Build your own hot dog cart? Why not - it's E-Z!
That's my first cart on the right. I built it myself because I didn't have thousands of dollars laying around to buy a manufactured unit.
I'll show you how to build one for yourself if you like. In fact, after I built the first one there were changes and improvements that I wanted to make so I built another with the profits generated by cart number one.
My crew shot hours and hours of video that show me building that cart from start to finish. We recently put it all in the member's area. Over 60 easy step by step videos show you everything - just follow along and do what I do. You can't make a mistake.
It's called the E-Z Built Video and Plans Package.

In addition to 50 construction videos you'll get all the plans, drawings, and written instructions. Plus, you get health department schematics for six different models from a one sink rear serve to a four sink side serve - even a California compliant model!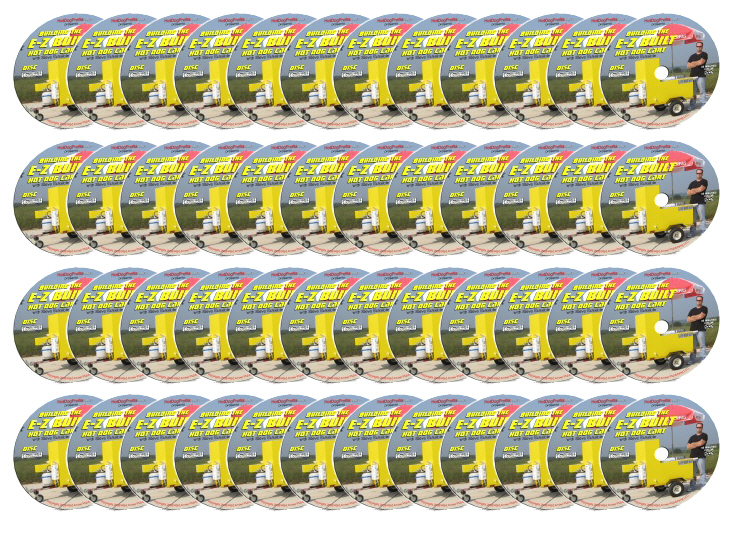 Bonus - this is the deluxe online interactive version. You can ask me questions and share construction ideas in the form below each video. You're never alone. We'll build it together!
The cost to build one usually runs between $500 and $800 in commonly available hardware store materials. There is no cheaper way to get started in the hot dog biz.
"I guess I'm not as dumb as I look. After 90+ weeks of unemployment and no prospects for a real job I started to panic.
But then my "Yankee Ingenuity" kicked in and I used my last 4 unemployment checks to build my own hot dog cart.
Steve at HotDogProfitsPremium.com was instrumental in helping launch my fledgling business. My cart paid for itself in one
weekend and 5 years later I not only have a job I have a legacy that I'll be passing on to my grandsons soon. My only
regret is I wish I would have done this at 20 instead of 50." -Bill Humphreys, HDP Premium Member
Speaking of money, once you start making it you need to keep track of it.
This is something that I found I was particularly bad at.
I could make the tastiest hot dogs and make people happy while they were eating them, but at the end of the month I was faced with a shoe box full of cash and receipts to try to make sense of. I really hated that part. But I feared the thought of an IRS audit even more...
So I hired a professional software developer to make me a custom bookkeeping program designed specifically for hot dog carts,
and I want to share it with you.
The software is called Hot Dog Cash Tracker.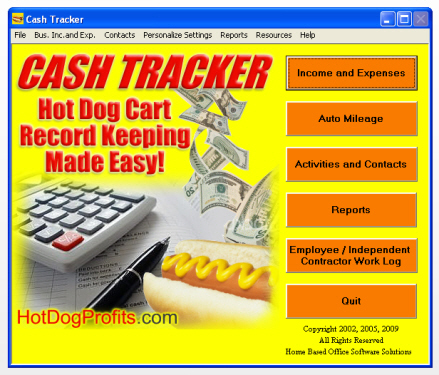 Rejoice! You no longer need to know bookkeeping in order to run a great hot dog cart business.
With Cash Tracker, you don't need any bookkeeping skills, and you don't need to know anything about accounting.
Cash Tracker is ready to use right out of the box. Everything is already set up specifically for hot dog cart businesses and it comes preloaded with all the accounts you will need.
Just fire it up and go. You'll be ready to start keeping your books like a pro by just clicking a button. Cash Tracker does all the drudge work for you and it doesn't make mistakes.
"Cash Tracker makes me want to wear a shirt that screams
"I HEART Cashtracker"  That is some seriously AWESOME
software!!  Thank you for creating it!

"
-A. Stephenson, HDP Premium Member
I also told my developer to include a ton of extra features that allow you to track everything you do in your business. You can track income, expenses, business mileage, contact lists, employee management, time cards, paycheck calculations, etc.
"Thanks again Steve for your Cash Tracker Program. My accountant said he will recommend it to the four
other food truck owners that he does taxes for. Said that its a no brainer, he was that impressed with it."
-J. Laurie, HDP Premium Member, Joe's Famous Hot Dogs•Burgers & More
Using Cash Tracker really pays. If you use this software to record the business expenses that were previously slipping away from you, you'll be able to deduct those expenses come tax time. You'll get to keep a lot more of your profits instead of giving a big chunk your money to the government.

To help you do this, I'm including a SPECIAL REPORT entitled, "101 Hot Dog Cart Business Deductions". This report lists 101 hot dog vending business expenses that you can enter into your Cash Tracker software, potentially saving you over $500 in taxes. Enough to pay for the software many times over.
We'll give you a five day free trial of the fully functional Cash Tracker Software, plus the full 18 minute video tutorial that explains how to install, run, and use it. You can play with the software and see how incredibly easy Cash Tracker is to use. If you decide you want to keep using the software, you will need to purchase an activation code. If you decide it's not for you, simply do nothing. You will not be charged. But you always have the option of getting the software down the road. It will be there if you want it.
You can follow this proven path to easy street. Once I had all this in place the business ran like a fine tuned machine. All I have to do is show up and serve our famous hot dogs to our raving fans, many of whom have become great friends. It's like hanging out with my buddies at a back yard cook out all afternoon- and getting paid for it!
"Wow, I've spent hours on your site now so many people, so much experience, lots to learn. I'm an outgoing person and
have thought for over 20 years owning a food cart would be a good thing for me to do, but! ———– fill in the blanks. so
many things stopped me. Like how to get a cart. Now no more excuses. Thanks. You have everything covered!"
-Bri Moody, HDP Premium Member
If you're ready for a change and you want to learn how to start and run your own successful hot dog business (while avoiding all the embarrassing and costly rookie mistakes that I made when I got started), we have everything you need.
You Can Choose From a Huge Selection of Mobile Food Business Training Courses...
For years we have sold these products separately in hard copy versions that total over $350. With the economy the way it is, we realize that those who need to get into this business the most may not be able to afford everything that they need to be successful.
That's why we cut our overhead to the bone and repackaged all of these training products into an online interactive format so you can have access to them right now at low prices that you can afford today.
Interactive Format. Remember - every lesson has a form where you can ask me questions or share ideas with your fellow Premium Members. You are never in this alone. Help is always available!
All Q and A forms are strictly moderated to keep this a nice, friendly place. This ensures that you never have to be afraid to ask a question because all of our members are held to higher standards of respect and courtesy.
Mobile Compatible. All of the training products and videos are smart phone and iPad compatible so you can view them on any device you like. The Cash Tracker Software runs on any windows PC.
We know that some of you still like to curl up with a book in your hands so hardcopy DVDs, CDs, and books are available to members for a very small cost, however once they get inside most folks don't feel the need to purchase them.
Bonus Package - A free custom 8 page website for your mobile food business built and installed by my marketing team.

Yes, we'll build and install a custom website on your own domain - which means you own it forever. No computer skills are necessary. We do all the techie stuff including setting up an email subscription form so you can start building a hot dog customer email list. Not everyone is on Facebook but everyone has email. Now that's powerful marketing!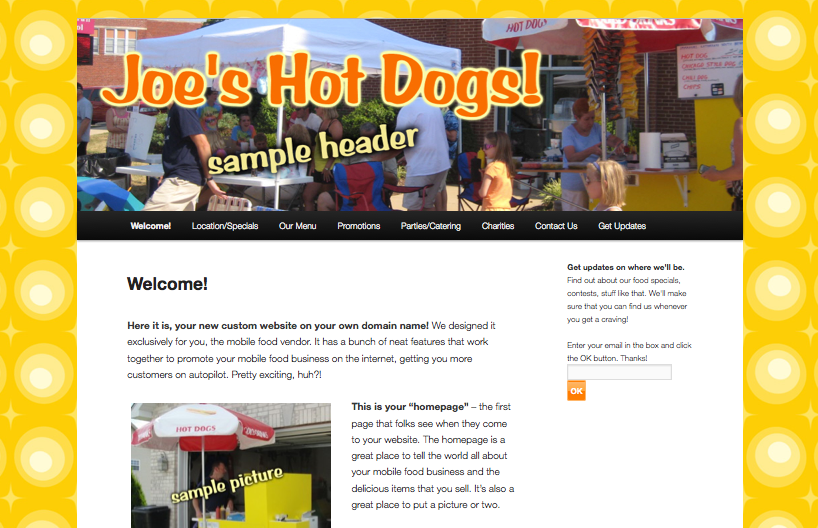 Included in this bonus online marketing package is free access to the members only training videos which show you how to add your own pictures and text so you can make changes whenever you want to. Other videos in the membership area show you how to use your customer email list in conjunction with the built in blog (yes we give you your own blog too!) to increase your food sales beyond what is possible with paper flyers and a Facebook page.
Get instant online access (right now - even if it's two in the morning) to your choice of the Hot Dog Profits
books, cart building videos, training packages, products, courses, and members only perks.
All in one place, with all the personal one-on-one help you need.
"I've been reading all of the material I received with my membership and it's invaluable, thank you, it's the best money I've ever spent."
-Mary Jones, Hot Dog Profits Premium Member
"Really, you give way more than the money's worth to your Premium Members. Thanks for that."
-Richard Strawder, Hot Dog Profits Premium Member
"Steve, the videos are great.  I can't wait to get building. Thanks!"
Mike Teague, Hot Dog Profits Premium Member
"People if you are running a cart and don't jump on this you're crazy. If you are new to to the biz
THESE ARE the main tools. Even if your an old timer there is plenty of info don't wait. I will make sure everyone
knows about this, really they need this. The software and the 101 tax tips alone are worth the price."
-Peter Schumate, Hot Dog Profits Premium Member
"I have to say, I am just astounded at the amount of information. If you are even slightly considering
getting into this business, this is a must. You really don't know how good this is until you buy it."
-Aaron Siegel, Hot Dog Profits Premium Member
"Thanks for this incredible offer. My son is also looking into slingin dogzz with me so that's part of the reason I purchased this
package. He is going to help me on Friday with my first event. A little nervous (400 dogzz) but going to give it our best."
-Jeff  Duncan, SGTDzz Hot Dogzz, Hot Dog Profits Premium Member